Chris Ciovacco: Tuesday's gain of 19 points in the S&P 500 is a good example of markets showing observable improvement before a big move arrives. The title of last Friday's article, "Improving Profile More Favorable For Stocks", was based on evidence in hand, rather than any prediction about the future. Today, we will explore one of the most aggressive predictions making the rounds on Wall Street, and discuss some contingency strategies, as well as the current state of the markets.
Predictions Of A 1929-Style Crash
The chart below shows the path of the Dow Jones Industrial Average (INDEXDJX:.DJI) in 1929 (black) and in 2014 (red). The rationale for showing the chart in a February 11 MarketWatch article was summarized as follows by the article's author Mark Hulbert:
There are eerie parallels between the stock market's recent behavior and how it behaved right before the 1929 crash. That at least is the conclusion reached by a frightening chart that has been making the rounds on Wall Street. The chart superimposes the market's recent performance on top of a plot of its gyrations in 1928 and 1929. The picture isn't pretty. And it's not as easy as you might think to wriggle out from underneath the bearish significance of this chart.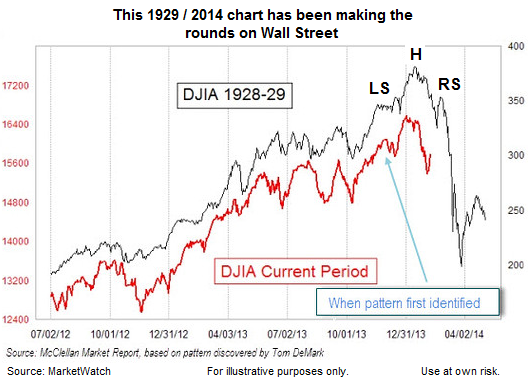 Since the Wall Streeters championing the 1929 vs. 2014 chart bring a wealth of experience to the table, we will give them the benefit of the doubt, even though regular readers know we are not big fans of forecasting.
Fear Can Be Tamed With Contingency Planning
Investment fear can be tamed once you develop a game plan for worst-case scenarios. Therefore, let's assume a 1929-style crash is coming sometime in the not too distant future, which will allow us to explore one of the worst stock market cases in history. The assumption does not mean we believe a crash is imminent; we are simply saying it never hurts to be prepared.
The 1929 Scenario Involves A Common Pattern
Chart patterns are based on human beings reacting to a shift in the fundamental data. A head-and-shoulders pattern is one example of how investors shift from a bullish bias to a bearish bias. In the 1929 chart below notice how the Dow formed a head-and-shoulders topping pattern before the 1929 crash (see LS, H, and RS). From a risk management perspective, the break of the neckline was significant.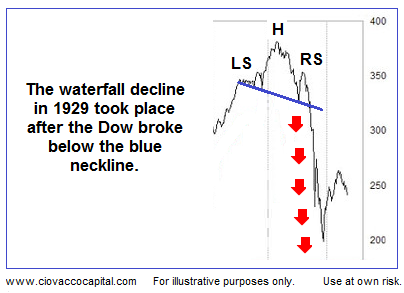 Where Is The 2014 Neckline?
If the analogy between the path of stocks in 1929 and 2014 holds water, we would expect to see a head and shoulders pattern in 2014.