Keith Fitz-Gerald: On the heels of the worst market volatility in nearly 20 years, and more "crash talk" than we've heard maybe ever, it's starting to look like a smart time to hit the eject button and get out of the markets altogether.
In fact, that's probably the most common question I'm hearing these days:"Should I be in the stock market right now?"
Believe me, I get it. Folks are emotionally shattered from seeing their wealth cut in half twice – once in 2000 and again in 2007-2008. That's why 55% of Americans have no money in the stock market at all, according to a Federal Reserve Board analysis from last year. I think the number is actually higher, because of the anecdotal evidence I gather on a daily basis.
That means hundreds of millions of people are missing this blindingly simple tactic that drives my strategy for my new Total Wealth  publication.
If only those people would look at this chart of the Dow Jones over the last 114 years: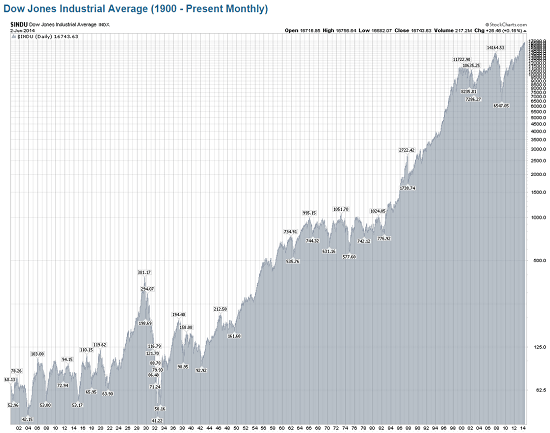 Despite two world wars, multiple invasions, presidential assassinations, the Cold War, hot wars, recession, depression, and all manner of events that no doubt seemed "catastrophic" at the time, it continued to push higher.
Since 1900, it rose a staggering 24,285%.
Why did it keep going up? Because the companies that comprise the Dow continued to make products, provide services, and grow earnings. It's that simple.
There are more people on this planet every single year. There's more money being created. There's more velocity. Capital is a creative force, too. As more wealth is created, investors joining the party are willing to pay increasingly higher prices to go along for the ride. It really isn't more sophisticated than that.
That's why "always own stocks" is another Total Wealth tactic.
Many people don't think of this as an investing tactic. But truth be told, it may actually be the most important tactic of all, because if you don't own stocks, then you can't participate in what I think of as "the upside of humanity."
Let me explain exactly what I mean – and why this tactic is so essential to building wealth…
The Power of Owning Publicly Traded Companies
Think about this for a minute and ask yourself…
…do you go to the store?
…do you buy stuff?
…do you keep your lights on?
…do you need food?
…do you need medicine?
When you own a company's stock – whether it sells burgers or banking services or biopharmaceuticals – you are an owner in an enterprise that exists solely for the purpose of making money, and you're tapping into the earnings of that company. They have a common goal, and that's to provide great returns to investors. And, over time, most do.
Owning stocks is not a matter of whether you "like" the headlines or not, only whether you'll make money from doing so. Over time, the answer is clearly yes.
Sure, there are going to be speed bumps along the way, but even those are great buying opportunities – at least if you believe in "buy low and sell high," like I do.
Obviously, there are considerations that have to be made for your age, your risk tolerance, and your objectives, but those are really shades of gray that depend on your situation. Not one of the factors I've just mentioned negates the argument itself.
And that argument is, precisely?
…You ALWAYS want to own stocks, because that's the best way to tap into the "upside of humanity" and build your personal financial dreams faster.
Especially today. Right now.
You may be thinking "there's got to be a catch." I hear you… That's a perfectly normal emotion and a common one, too, especially lately.
It's not too good to be true – you always want to own stocks even if you're one of millions who have come to the conclusion that big banks are a four-letter word and there's a near total lack of adult supervision in Washington.
How do I know this is true?
The same way you do. If companies were not creating wealth, the economy would not be growing.
Simple as that.
But don't take my word for it.