David Zeiler: Three stock market crash indicators are suggesting that the current bull market may be running out of steam and is susceptible to a significant correction.
Two of the stock market crash indicators are weakness in key sectors, and the other is a technical development on the Standard & Poor's 500 index chart.
Let's start with the chart.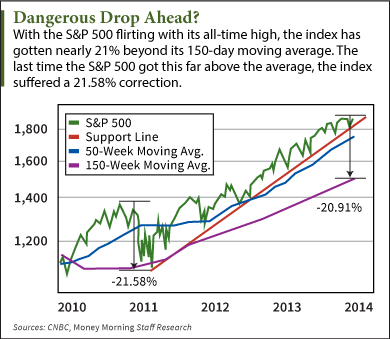 The S&P 500 is bobbing in the 1,880, range which is not far below the all-time high of 1,890.9 reached on April 2.
Its steady climb over the past couple of years has put the index more than 20% above its 150-day moving average.
The last time the S&P 500 got that far above the 150-day moving average was in 2011, when it got slammed with a 21.58% correction.
Richard Ross, global technical strategist at Auerbach Grayson, told CNBC that investors should take the parallel seriously.
"I think that we're in exactly the same scenario," he said, noting that a similar decline now would shave about 20% off the S&P 500, taking it down to the 1,500 level. "I think that's what we're staring at right here."