Chris Ciovacco: Driven partly by hopes Chinese officials will implement some additional and fairly significant reflation projects, emerging markets stocks (EEM) have performed well recently relative to the S&P 500 (SPY). From The New York Times:
China's leaders are issuing increasingly clear signals that they plan another round of economic stimulus programs, as evidence accumulates that the economy is slowing more than expected this year. A government-affiliated survey released Thursday of purchasing managers' sentiment in nonmanufacturing sectors like construction, computer software and aviation showed a fairly sharp drop in March.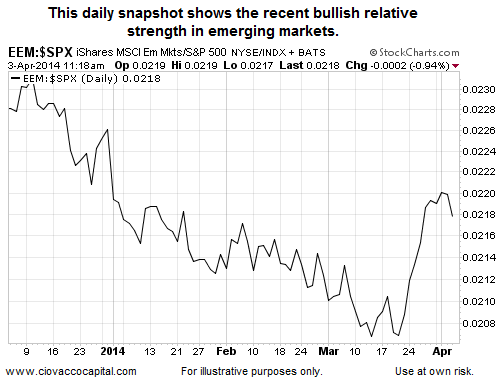 Emerging Markets/Yellen Reflation Trade Facing Big Test
Chinese officials, the European Central Bank, and the Federal Reserve are all concerned about low inflation and tepid economic growth. Have investors shared the same concerns in recent months? The chart below, showing the performance of emerging markets (EEM) relative to the S&P 500 (SPY), says "yes, investors are also concerned about tepid growth and low inflation." EEM has failed to clear resistance at similar points in the past (see red arrows below). Based on what happens near the purple arrow below, we should learn something about global stocks and the global economy.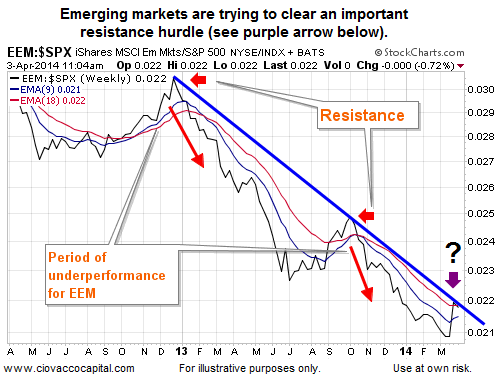 Wednesday's Announcement
During Thursday's trading session, EEM was down over 1.0%, while the S&P 500's decline was only 0.18%. The underperformance could possibly have been sparked by disappointment in the relatively tame announcement from Chinese officials Wednesday night. From The Wall Street Journal:
China's latest economic stimulus can be seen as more of a statement of priorities than a powerful effort to jump-start growth. The message: growth trumps concerns about a credit bubble. On Wednesday night, the government's top decision-making body, the State Council, announced a spending package consisting of new railways and subways, low-income housing and tax breaks for small business.
Downtrend Hard To Buck Without China
The weekly chart showing an area of possible resistance for EEM also shows a clear and established bearish trend for emerging markets stocks relative to the S&P 500, which is a reflection of how investors feel about emerging markets and more specifically about the Chinese economy.