Scott Pluschau:  Let's take another look at the weekly chart of the iPath DJ-UBS Grains TR Sub-Idx ETN (NYSE:JJG).  In late 2009 through middle of 2010, JJG formed a triangle that resembled more of a bullish rising wedge pattern that I marked with blue trend lines now looking back at it again today. In my opinion, a falling wedge symbolizes diminishing supply until the bears have lost interest, as the falling prices are actually discouraging rather than attracting sellers. Buyers finally come in looking for bargains, and the trend reverses. Notice the upper trend line resistance has three points of contact. A break from a trend line with three points of contact is usually significant. I also marked where the breakout from the wedge was on strong volume, making this a dangerous place to be short and stubborn about it. Do not get stuck on the wrong side of a market going into vertical development on above average volume. With all due respect to other traders or analysts, I really don't care how bearish the world's most famous fundamental analyst in agriculture could have been about the prospects for grains at that time. My decisions are based on the chart and what the market is doing. On that breakout, I'm either going long, or I'm looking to get long on a throwback to the prior support and resistance level, or I'm doing nothing.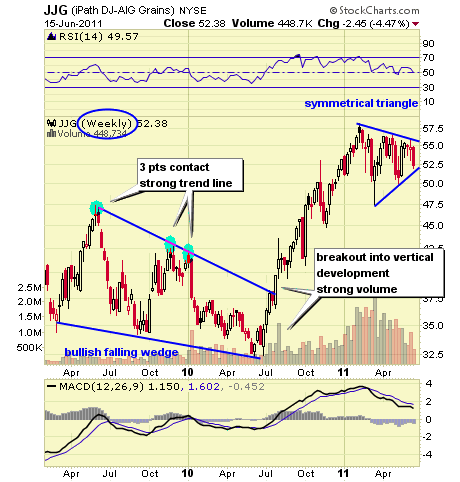 Let's move to 2011, the grains have now formed a symmetrical triangle that I have marked with blue trend lines.  The triangle is implying continuing demand and continuing supply as the falling trend line and the rising trend line are converging signaling that this market in the weekly time frame has found value.  Value areas are only temporary in a never ending auction. My experiences with symmetrical triangles are that they are most likely to be continuation patterns.  So my bias is to buy at a location where I will avoid random market behavior. Which would be on the breakout to the upside out of the triangle, or I can have a low risk entry on the support of the rising trend line. Why is this low risk here at the rising trend line? Because I can get out at a minimal loss if it fails to hold.  Compare that to the reward if there should be a rally off of here? If the trend line holds, I am looking to buy a small entry level position on the first bullish reversal pattern on the daily chart, with the intention of adding to my position only on a breakout to the upside later. The stop loss at the second point of entry would then be placed inside the triangle just below the halfway point. This is looking out on the horizon, but should we get there according to plan, the potential loss on the position after those two entries would be minimal. The path of least resistance is higher, making the potential gain lucrative.
What is my risk here? What is my reward? Comparing those two along with the probabilities of the analysis of pricing patterns and volume being correct gives me an edge. This is a favorable trade, and if these types of setups are taken enough times over the long run it will lead to a trading system with positive expectancy.
What about the downside? There is huge volume in the symmetrical triangle, making this a combustion chamber like battle between the bulls and the bears. This pattern has a strong breakout potential but it also has strong breakdown potential. Coming at the top of the trend, a ton of volume usually is a sign of distribution making me very cautious on the size of my initial trade to the long side. If it is in fact distribution, and the triangle breaks down, and JJG then enters a phase of vertical development seeking value at lower prices, I do not want to be holding my position. The loss will be cut quickly. That is why my stop loss after buying can and will be tight here, and should I take the loss, it is only a cost of doing business. Catastrophic losses lead to ruin, not these kinds. Money Management and Position Sizing are just as much a focus for me as the chart itself.
It truly doesn't matter to me what anyone else thinks about grains as a long term investment, or if there are current droughts and/or floods destroying crops, or whatever else is happening to the dollar. These factors should be already priced in. On a breakdown of the triangle I will be reversing my position and going short or I will be doing nothing. There are never ending other opportunities in the markets.
Focusing on being objective, disciplined, and consistent are as serious as the study of charts, the use of correct position sizing, and the utilization of proper money management techniques.
Comments are welcome at [email protected]
Written By Scott Pluschau From ETF Digest  
Scott was a financial advisor with Citi. His technical analysis report was recently featured by Dr. Marc Faber on the Nasdaq Composite Index in his June 1, 2011 Gloom Boom & Doom report. Scott earned his degree in Accounting and Taxation from Pace University. He lives in Long Island with his wife Ilona, daughter Olivia and new baby Henry.
ETF Digest writes a subscription newsletter focused on technical analysis of exchange-traded funds. ETF Digest was founded in 2001 and was among the very first to see the need for a publication that provided individual investors with information and advice on ETF investing.  Even if you're not a fan of chart analysis, ETF Digest provides insight and commentary into which global markets are "working" and why.