Scott Pluschau:  PowerShares DB Agriculture ETF (NYSE:DBA) is breaking out of a Bull Flag pattern on the weekly chart. The flag is a continuation pattern that resembles a flag when drawn with trendlines, and ideally should have diminishing volume in the flag after a sharp increase in price.
The saying is the flag flies at half mast. Looking at the chart the mast or flag pole is approximately 10-12 points. So the target on this pattern after the breakout is the length of the previous mast, or approximately $44-$46 per share. 99% of my analysis does not include any traditional technical indicators such as Oscillators, Fibonacci, Elliot wave, etc., but in the Flag pattern specifically I do like to look at the Money Flow index for signs of divergence. I believe what forms the flag portion of the pattern is initial profit taking followed by some over anxious short sellers. On the attached chart you can see the Money Flow Index has been lifting since middle of April 2011 as DBA twice made new lows in the downward trending channel of the flag. This is positive divergence.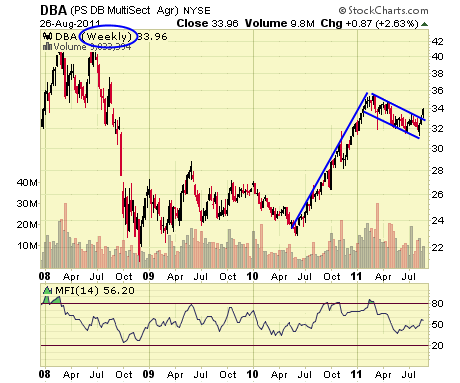 Should the upper trendline of the flag still be holding on Monday morning, I am looking to establish an entry level long position, and place an immediate "good till cancel" stop loss at the midway point toward the end of the flag which is approximately $32 per share. This is nearly a five to one reward to risk ratio, with good enough probabilities historically speaking in regards to the bull flag continuation pattern being completed. I feel this trade gives me an edge. Taking some profits at the half way point toward the target would represent a greater than 10% gain, so it would take some serious discipline to hold onto the entire position at that point. I do sometimes take profits halfway it would depend on whether or not DBA was stalling or acting weak in a smaller time frame or if there was some prior resistance in that area that was recent. We haven't seen DBA at $39 per share since 2008, so I don't think that would be a normal reason for DBA to reverse. The greater the length of time that has elapsed from prior support or resistance the weaker that prior support or resistance becomes due to the enormous potential turnover in shareholders since then.
I would really like to see DBA increase in price off of the flag on an increase in volume. I would also like to still be holding onto a trailer should DBA reach my initial target as a bull flag pattern being completed is not a reversal signal. It is these types of trades when fulfilled that more than make up for a streak of lousy trades that don't work out. It all depends on whether or not we can follow through with our trade management.
Worse than any loss I have ever had has been from taking a profit too soon, for the sole reason of not losing the profit, only to then watch my trade continue onto what would have been magnificent returns. It is my ego that wants to book a profit and pat myself on the back for being right in my analysis more than anything. But in reality when we sell to take a profit, and the trade continues onward, we lost money. As difficult as that may sound, since we have improved our P&L, it is true.
One reason I believe many traders do not make it in this business is because they spend too much time focusing on "buy signals" and not enough time working on themselves. Understanding psychology when it comes to trading is as important as the chart analysis. It is a tremendous battle with ego when it comes to "trading". The greatest warrior conquers himself.
In full disclosure I have no position in DBA at this time.
Written By Scott Pluschau From ETF Digest  
Scott was a financial advisor with Citi. His technical analysis report was recently featured by Dr. Marc Faber on the Nasdaq Composite Index in his June 1, 2011 Gloom Boom & Doom report. Scott earned his degree in Accounting and Taxation from Pace University. He lives in Long Island with his wife Ilona, daughter Olivia and new baby Henry.
ETF Digest writes a subscription newsletter focused on technical analysis of exchange-traded funds. ETF Digest was founded in 2001 and was among the very first to see the need for a publication that provided individual investors with information and advice on ETF investing.  Even if you're not a fan of chart analysis, ETF Digest provides insight and commentary into which global markets are "working" and why.