Thomas Carreno:  The S&P 500 (NYSE:SPY) today broke down through key support and volume was robust again.  A day like today is not supposed to happen if the market is still bullish.  Indeed today could be an important warning sign that this market wants to transfer into a more complex correction.  The up trend at this point may be on pause.
At this point I am still going to refer to the red dotted channel line as the key level that either holds or not for me to switch to outright bearish again.  This is a key channel.
Interestingly, the test of the bottom portion of the channel may coincide with some type of decision on the debt limit increase of the United States.
I do see that the daily MACD is in bearish mode and also the WEEKLY MACD is re confirming a bearish mode and trend.  The bearish weekly MACD is not something to be taken lightly now because if it continues it can eventually start to affect the monthly MACD and really start to roll this market over into a new down trend.
But it is still early and again, I want to see a break of the red dotted channel before I throw my hands up in the air and call this a new mini bear.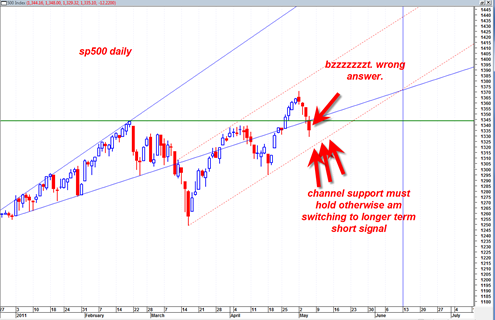 The S&P 500 can still keep a bullish stance if it finds support at the bottom portion of the channel and then just continues the uptrend it was already in (albeit a choppy uptrend). 
If the market was still supremely bullish it would have held the solid green horizontal line today, but it didn't.  So now we can only watch to see how this market reacts to the bottom channel line.  If the bulls still have it together they will hold, if not, well then it is on to plan B.
Note also today that the S&P 500 broke back under the bottom solid blue broadening wedge line, another bearish sign.
Related Tickers: SPDR S&P 500 ETF (NYSE:SPY), ProShares UltraShort S&P500 ETF (NYSE:SDS), ProShares Short S&P500 ETF (NYSE:SH), ProShares Ultra S&P500 ETF (NYSE:SSO), Direxion Daily Small Cap Bull 3X Shares (NYSE:TNA), Direxion Daily Small Cap Bear 3X Shares (NYSE:TZA).
Written By Thomas Carreno From Best Online Trades 
I started 
Best Online Trades
because I really enjoy trading and I also enjoy writing about trading.  Writing about trading or trading strategies helps transfer thoughts that would otherwise stay in 'theory' and helps move them to more concrete form for me. And hopefully along the way you will pick up something useful as well. 
BestOnlineTrades
covers many different aspects of trading, from commodities to stocks, from indices to ETF's.