Nadia Simmons: Trading position (short-term): We might see a corrective move if crude oil invalidates the breakout above the 61.8% Fibonacci retracement level, so we suggest closing long positions and taking profits off the table.
On Thursday, crude oil gained 0.65% as the EIA data showed that U.S. distillates stockpiles dropped more than expected last week, despite gains posted in oil and gasoline inventories. Thanks to this news, light crude extended its gains and hit a fresh three-week high of $97.84 per barrel.
Yesterday, the U.S. Energy Information Administration said in its weekly report that U.S. crude oil inventories rose by 990,000 barrels in the week ended Jan. 17. Although this closely watched government inventory report showed that crude stockpiles climbed for the first time in eight weeks, the gain nearly met analysts' expectations (as a reminder, analysts expected that oil inventories rose by 1.2 million barrels last week).
The EIA report also showed that gasoline stockpiles rose by 2.1 million barrels last week, reaching their highest level since February 2011. Meanwhile, distillate supplies, including diesel fuel, declined by 3.2 million barrels (compared to expectation for a loss of 851,000 barrels), which supported the price of light crude and pushed it to its highest level in three weeks.
Having discussed the above, let's move on to the technical changes in the crude oil market (charts courtesy of http://stockcharts.com.)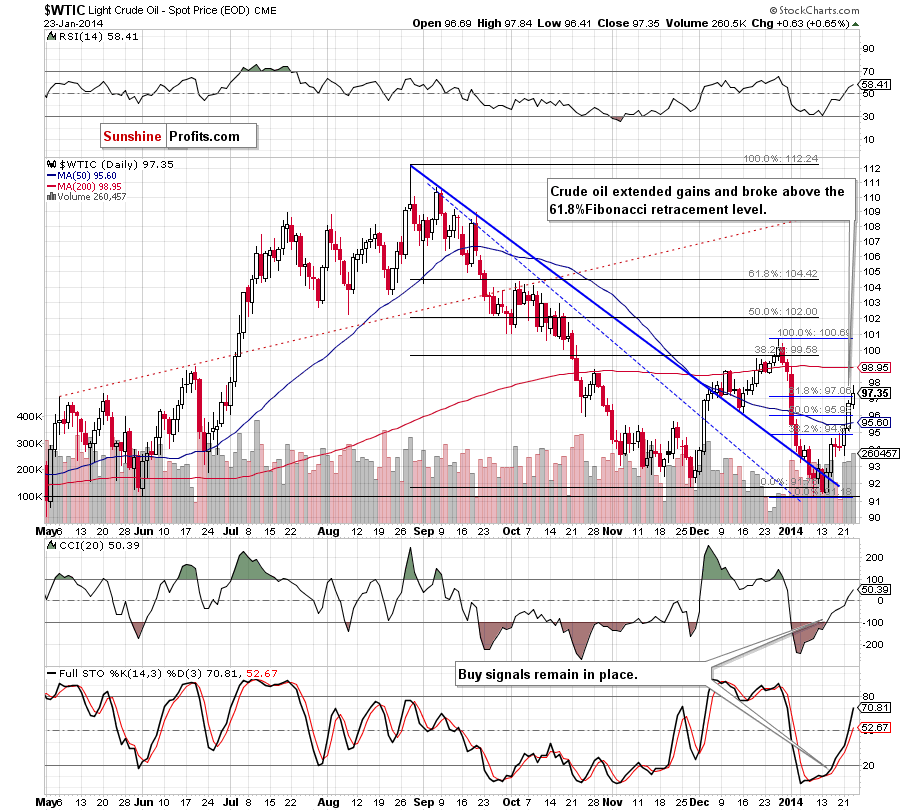 On the above chart, we see that crude oil extended gains and broke above the 61.8% Fibonacci retracement level. Thanks to this upswing (which is confirmed by another increase in volume), light crude hit a fresh 3-week high of $97.84 and approached the 70.7 Fibonacci retracement (around $97.96). Although this is not a very strong resistance level, it seems that after a three-day rally it could be enough to encourage oil bears to act. This assumption is reinforced by the Fibonacci price projection (based on the Jan. 13 and Jan 21 lows and the Jan. 15 high), which shows that the 100% projection is at $96.86 and suggests that the upside target was reached yesterday. Taking these facts into account, we will likely see a corrective move in the near future, but this potential correction will likely be limited by the 50-day moving average which serves as support.
Want More Great Investing Ideas?