Przemyslaw Radomski, CFA: Investors' sentiment in the whole precious metals sector is so low that it seems it almost cannot move any further below its current level and it has profound implications for the market: levels so low signal the formation of a bottom and a likely trend reversal.  We would like to quote one of the questions that we received recently as it is a good indication of how negative investors' attitude towards the yellow metal (which could be used as a proxy for the whole sector due to strong correlations between particular assets) is:
Thank you for your hard work on precious metals. I am afraid that when gold reached $1,900 in 2011 it was too much and too fast and we are making a big mistake thinking that gold will go higher. I expect that Wall Street equities will soar for the remainder of 2013 and gold will do very poorly. There are many good stocks now and one can do very well by investing in these stocks.
However, my record for predictions of this sort is bad. I am hoping that this time my record will be horrible. If so, gold may go to $3,500/ounce.
Actually, this is how your editor "feels" as well. I can't say that I'm happy about the gold market and its performance at this point. Acting against such strong "feelings" historically proved to be profitable. Recall buying when there's blood in the streets principle?
We have already written about the extreme situation in the gold and silver mining stocks market and it seems that there is even more tension in this market currently. The fundamentals and the negative sentiment at its peak bode well for investments in this sector. Let us move into today's technical portion to see what charts have to say – we will starts with junior mining stocks (charts courtesy by http://stockcharts.com.)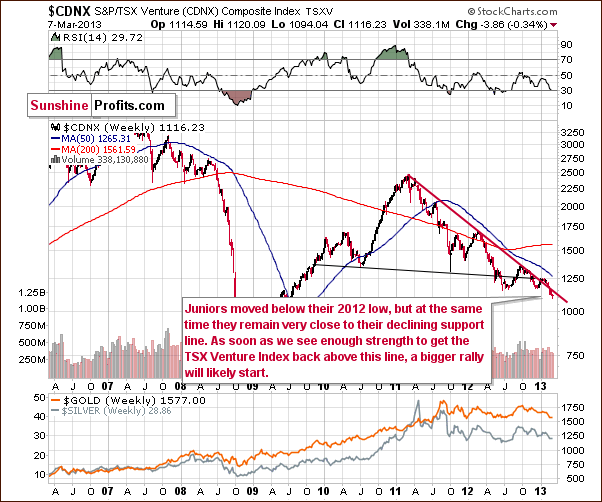 In the Toronto Stock Exchange Venture Index (which is a proxy for the junior miners as so many of them are included in it), we see a move below the 2012 low this week but prices are still close to this level. Since juniors are so close to the declining resistance line, once a bit of strength is seen here, a significant rally is likely to begin. As the saying goes, "the longer the base, the stronger the move", and the base period here is about 6 months so the rally could indeed be powerful.
Let us now move on to gold mining stocks – we'll use HUI Index as a proxy here.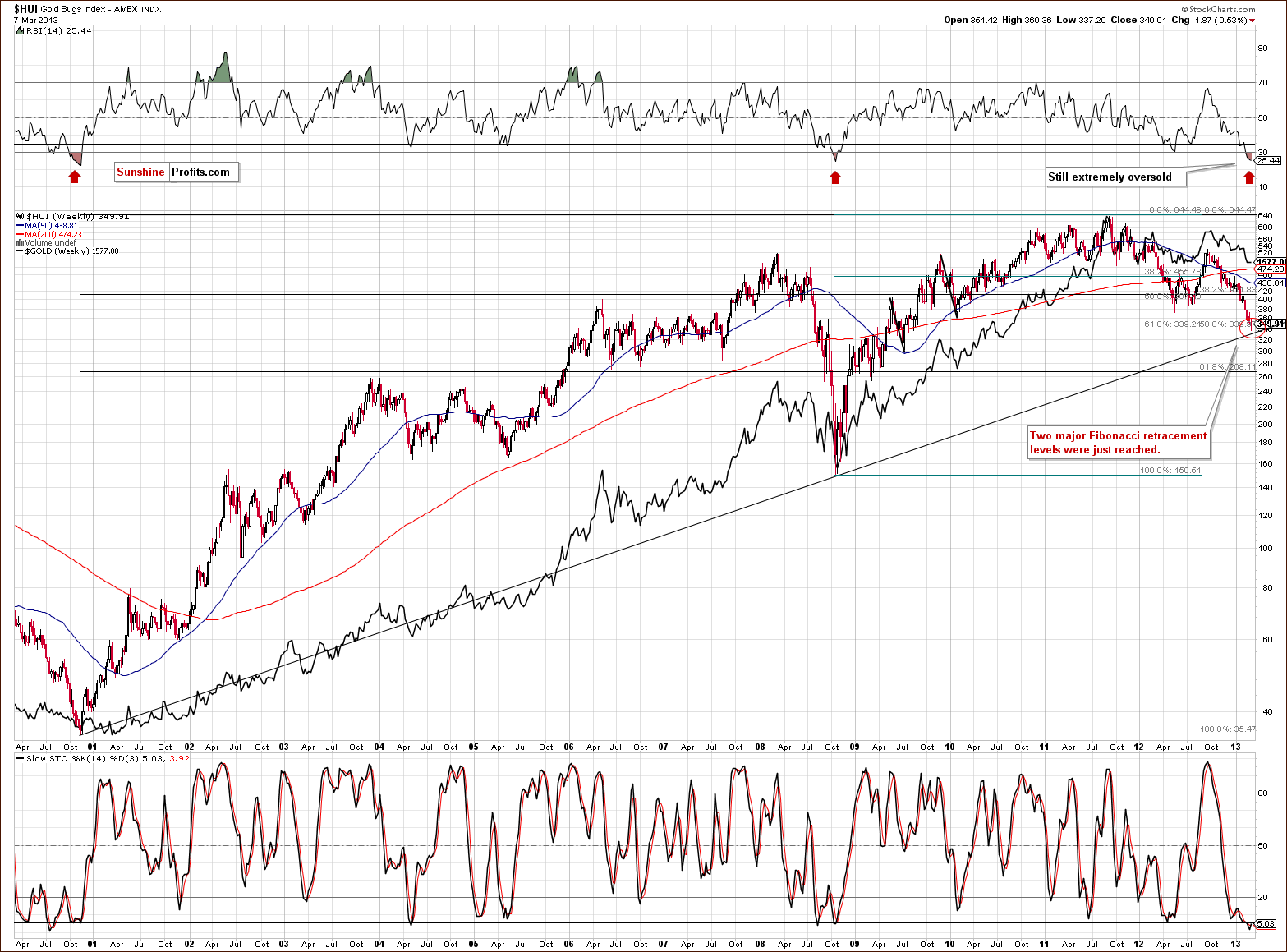 In this chart, which covers the whole current bull market for gold stocks, we can see that the support line created by the bottoms of 2000 and 2008 has almost been reached. It is not the only major support line in play, however. The 50% Fibonacci retracement level of the 2000 to 2011 rally, where actually ½ of the whole bull market has been retraced. At the same time, we see the 61.8% retracement level of the 2008 to 2011 rally. Since these retracement levels were reached, the bottom could very well be in and the HUI Index may not move lower.
Please look at the indicators, at the top and bottom of the chart. The RSI has only been this oversold in 2008 and 2000 both at major bottoms. The stochastic indicator at the bottom was only this oversold back in 2000. The situation now is in a way more extreme than 2008. A major bottom is likely in or very close to being in.
Let's now move to a chart that measures gold stocks performance relative to the general stock market.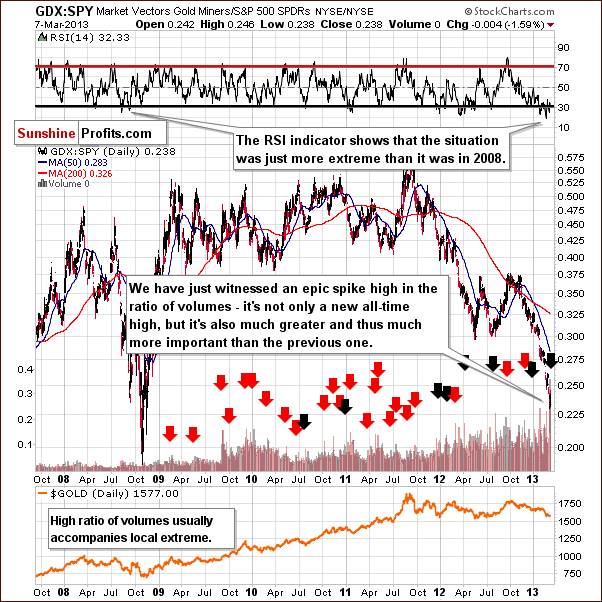 In this GDX:SPY ratio chart, we see a huge spike in the ratio volumes, actually much higher than ever seen before. A high ratio of volumes usually accompanies local extremes and we are surely close to a local bottom here, not a top. Clearly this could mark the end of the corrections in the entire precious metals sector not only the mining stocks.
To finish off, we'll take a look at Gold Miners Bullish Percent Index.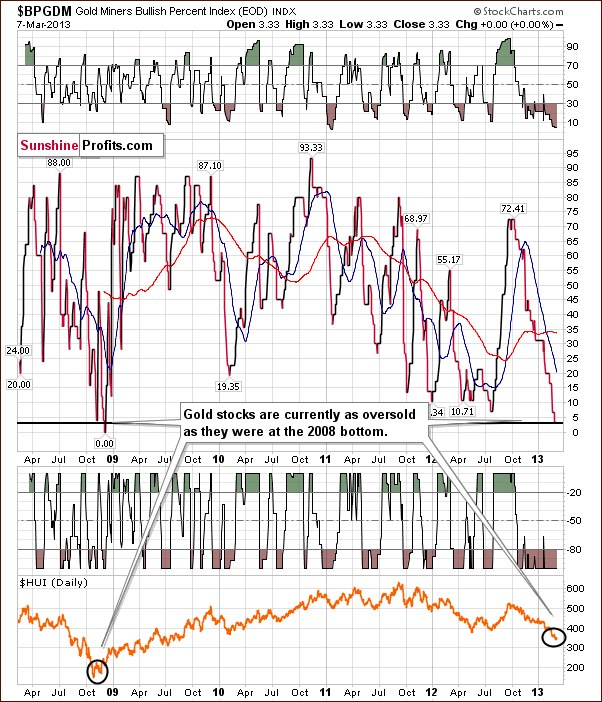 The interesting thing about gold stocks is that the Gold Miners Bullish Percent Index dropped below 5 last week. The only 2 times that has been the case (ever – since this index' inception in 2008) were in early Nov 2008 and early Dec 2008 – after both parts of the major double-bottom pattern. Naturally, the implications are bullish as this is yet another signal that the sentiment is now extremely negative for the whole sector.
This chart confirms that the situation is critical.When it has been as oversold in the past, the major bottom had already been seen and higher prices quickly followed. The implications here are clearly bullish for gold prices in the weeks ahead.
Summing up, the outlook for the mining stocks is becoming more bullish with each passing week. Numerous signals this week point to a turnaround on the horizon and it appears that the miners will once again begin a period of rally (if they haven't done so already).
Related: SPDR Gold Trust (NYSEARCA:GLD), iShares Silver Trust (NYSEARCA:SLV).
Written By Przemyslaw Radomski, CFA (PR) From Sunshine Profits
Przemyslaw Radomski, CFA (PR) is a precious metals investor and analyst who takes advantage of the emotionality on the markets, and invites you to do the same. His company, Sunshine Profits, publishes analytical software that anyone can use in order to get an accurate and unbiased view on the current situation. Recognizing that predicting market behavior with 100% accuracy is a problem that may never be solved, PR has changed the world of trading and investing by enabling individuals to get easy access to the level of analysis that was once available only to institutions.
High quality and profitability of analytical tools available at www.SunshineProfits.com are results of time, thorough research and testing on PR's own capital. PR believes that the greatest potential is currently in the precious metals sector. For that reason it is his main point of interest to help you make the most of that potential. As a CFA charterholder, Przemyslaw Radomski shares the highest standards for professional excellence and ethics for the ultimate benefit of society.