How to Invest in Global Agriculture in 2014
First, pursue a fund that is diversified across a variety of agricultural commodity categories.
For that, nothing beats ELEMENTS Rogers International Commodity Index – Agriculture exchange-traded note (ETN) (NYSE Arca: RJA). RJA is the most diverse ETN for the sector and includes 20 different agriculture commodities.
That provides broader exposure to the global markets, which is ideal for the more conservative investor. The top holdings include wheat (20%), corn (14%), cotton (12%), and soybeans (9%).
RJA is up more than 11% so far this year, with a lot more room to run as the summer heats up.
Another good option in this category is the PowerShares DB Agriculture Fund (NYSE Arca:DBA), which Money Morning Global Resource Specialist Peter Krauth just recommended today. This exchange-traded fund comprises 17 agricultural commodities futures contracts and gives investors diversified exposure to coffee, sugar, soybeans, live cattle, and more.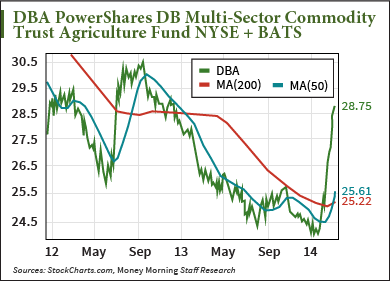 Says Krauth, "So far this year, DBA has gained nearly 19%. On a technical basis, the chart looks way overextended and ripe for a pullback. Look for a drop perhaps down to the $26 level, which is close to the 50-day moving average and could act as new support."
Second, if you're willing and know how to invest in preferred shares, consider CHS Inc. (Nasdaq:CHSCP) as an income play.
The company is the largest U.S.-based cooperative. It's more of an energy company than anything else, with 79% of EBIT coming through its fuel services division.
However, its agricultural arm is growing.
Approximately 90% of its revenue comes from the United States, but CHS is expanding around the world through joint agricultural ventures and outright purchases across Brazil, Argentina, Australia, Japan, and Israel.
CHS has deep pockets and an aggressive strategy, allowing it to make strategic moves around the globe with political unrest or currency concerns in mind.
It also pays a juicy dividend of 7%.
Remember that these are preferred shares, and these stocks do not behave the same way that typical equities do. They are more comparable to bonds and carry some risks. That said, there are also many advantages, like the fixed income.
Finally, there's one play for investors able to purchase stocks on the Toronto Stock Exchange.
Crop storage group Ag Growth International (TSX: AFN) will march into the fire and maintain plans to conduct a "significant amount of business" in Ukraine despite the current crisis.
Ag Growth's foreign business is surging. The company, which sells midstream services to global grain handlers, reported a 29% increase in foreign sales, with more than half of its total record sales in the former Soviet Union.
Despite concerns about credit and receiving payments on time, analysts don't expect the uprising to impact spring grain harvests.
It's a bit of a contrarian play for those confident enough. The company is up more than 50% since last May and offers a strong dividend of more than 5%.
Written By Garrett Baldwin From Money Morning
We're in the midst of the greatest investing boom in almost 60 years. And rest assured – this boom is not about to end anytime
 soon. You see, the flattening of the world continues to spawn new markets worth trillions of dollars; new customers that measure in the billions; an insatiable global demand for basic resources that's growing exponentially; and a technological revolution even in the most distant markets on the planet.And Money Morning is here to help investors profit handsomely on this seismic shift in the global economy. In fact, we believe this is where the only real fortunes will be made in the months and years to come.