The comments from Friday's article still apply:
Our core positions continue to be U.S. stocks (SPY) and technology stocks (QQQ). Last week our allocation to stocks contracted and our cash position expanded. The market remains in a more vulnerable state, but bearish conviction is not yet strong enough to carry the day, which can be seen in the flattish nature of the S&P 500's 50-day moving average. The market's current profile requires a high degree of flexibility. With a Fed meeting on this week's docket, we must be willing to increase or decrease our equity exposure based on the incoming data and evidence.
The chart below shows the S&P 500 making a stand near a key range. Also note, the slope of the 50-day moving average is trying to turn back up in a bullish manner, which reflects improving investor sentiment relative to last week.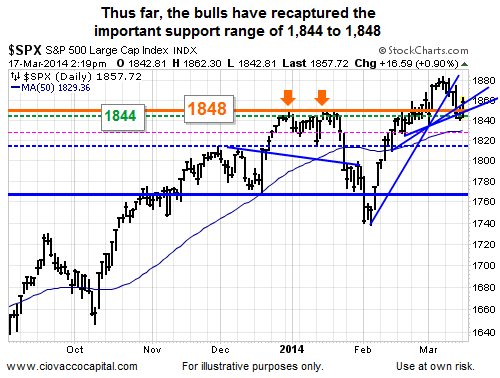 Monday's return to a risk-on bias allowed us to take a small incremental step on the growth side of the portfolio via the S&P 500 Equal-Weight ETF (NYSEARCA:RSP). If conditions continue to improve, we will further reduce our cash holdings and add to our stock positions.
This article is brought to you courtesy of Chris Ciovacco from Ciovacco Capital.