My old friend, Michael, has been watching the rally for signs of exhaustion or continuation with an eye on trading Direxion's 3x/-3x financial sector ETFs, symbols FAS and FAZ respectively.
Last Friday, he wrote about FAS that it "looks like a classic range rider pattern to me. If so, and if it isn't over, the next stop is $13.50 followed by a dip to around $10." He noted that "it could be getting a bit long in the tooth." 
Here's the chart he sent with those comments: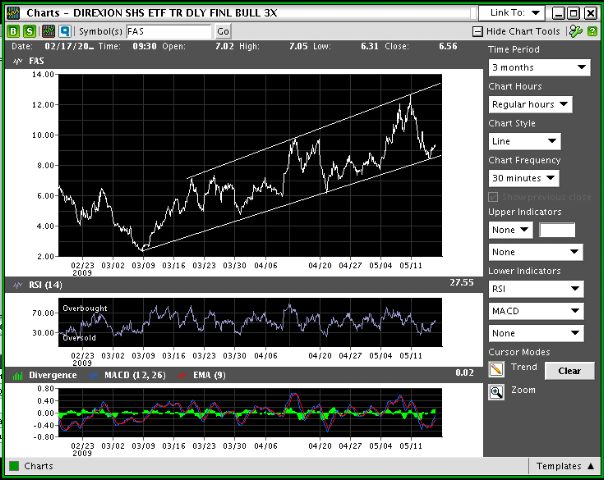 Based on that, Michael went long FAS, enjoyed Monday's fat 18% gain, and sent me this follow-up:
Today went as predicted by the pattern in the chart. I'm very short term, and could be switching horses as soon as tomorrow, although that would be quick for the pattern to hit a top. I do expect a downturn after the spike we are seeing now, even if the uptrend continues. This rally has been ziggy zaggy all along. With an 18% day today I'm leaning toward a hair trigger…and I have a healthy chunk of change in reserve too.
Catching an 18% day is a fine piece of work for a trader. If we expand the view, however, we can see that a longer term and a proper swing trade results in less trading and more profit per trade. That same FAS, for instance, would have produced a 375% gain from its March 6 low to its May 8 high. That would have been perfect, which nobody ever pulls off, but even cutting away the extreme points on the range leaves a lot of room for big profits.
Full Story:  http://seekingalpha.com/article/138631-financial-etfs-show-the-trouble-with-trading-ranges