Looking at the daily chart we can see that the XLF has been caught in a range between $23.75 and $24.75 for two months now, but I look for that to change next week. The two red boxes show the second week of earnings season for the last two quarters. These weeks would have been the same as this coming week, with a large number of financial companies reporting earnings.
You can see that the last two times we had a week like next week, the XLF fell. It didn't fall much, but it fell. In fact, if you look at the weekly chart and what has happened during these weeks over the last few years, the fund has dropped almost every time, especially in the last year and a half.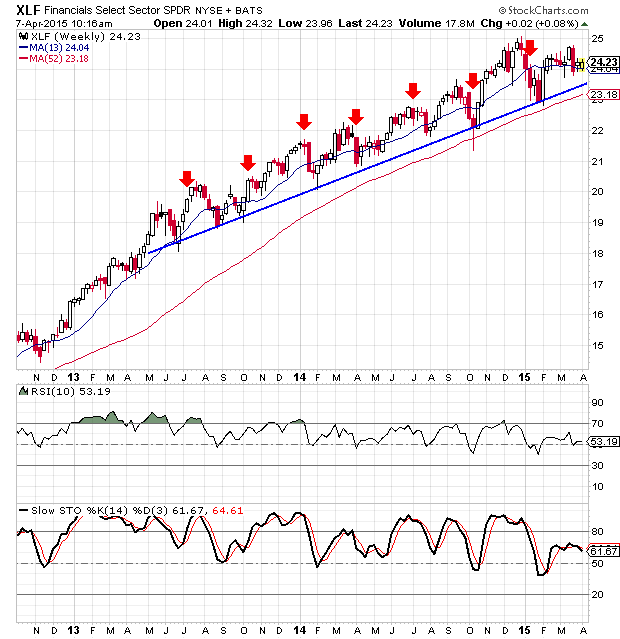 Despite losing ground during the big earnings weeks, the XLF has continued to trend higher. The weekly closing lows have created a nice trendline that has provided some good entry points for anyone looking to go long.
Looking at the group as a whole, the sentiment picture is mixed. The average short interest ratio for the seven stocks announcing earnings next week is 2.05, which is a bit low and suggests that investors are bullish. The average put/call ratio percentile ranking is 37.9%, and that is a neutral reading. The analysts, on the other hand, are relatively bearish, with the seven stocks averaging more "hold" and "sell" ratings than "buy" ratings.
Given the sentiment picture and the tendency for the XLF to fall during the big earnings weeks, I would advise against buying the fund this week or next. After next Thursday, when all the earnings reports are out, I would take a look at the chart to see where the XLF is trading. If the fund drops down to the trendline on the weekly chart and holds above it, I would look to buy it at that point.
If you buy the XLF, you will also want to keep an eye on the Fed. Banks are hoping for an interest rate hike, as that will give them the ability to raise the rates charged on their loan portfolios. It will also give them a wider spread between the lending rate they charge versus the rate they pay out on savings accounts.
If the Fed starts to balk at raising rates in 2015, the XLF could drop below the trendline. If the Fed does in fact act and raises the federal funds rate, banks stocks should rally.
This article is brought to you courtesy of Rick Pendergraft from Wyatt Research.