Chris Ciovacco: Deterioration in risk-on vs. risk-off charts contributed to our incremental risk-reduction moves last Thursday and Friday. Charts feed off of fundamental perceptions/economic data. The data on the housing front did nothing to change perceptions Monday. From Bloomberg:
Purchases of new homes in the U.S. fell more than forecast in December, ending the industry's best year since 2008 on a sour note. Sales decreased 7 percent to a 414,000 annualized pace, lower than any estimate of economists surveyed by Bloomberg, after a 445,000 rate in November that was weaker than previously calculated, the Commerce Department reported today in Washington. The housing rebound has cooled as bad weather slowed the market and as buyers adjust to higher borrowing costs and rising property values, which have hurt affordability.
Investing is about probabilities. It is prudent to put our capital in harm's way when the odds of success are favorable. The most favorable odds occur in quadrant 1 below, when the fundamentals and technicals are aligned in a bullish manner. Unfortunately, in the present day, the odds are shifting from quadrant 1 toward quadrant 4. Until that concerning shift subsides, it is prudent to limit our exposure to stocks.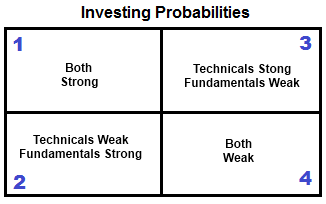 Market's Tolerance For Risk Is Shifting
This week's stock market video summarizes the changes in the observable evidence and provides specific examples of the rationale behind reducing risk exposure last week.
After you click play, use the button in the lower-right corner of the video player to view in full-screen mode. Hit Esc to exit full-screen mode.


2008: This Is What Economic Fear Looks Like
As we have noted in the past, all investing involves opportunity costs. If we look at the markets from an opportunity cost, or "would I rather own this or that" perspective, we can gain valuable insight into the market's risk-reward profile. Thinking in extremes also provides insight. In the credit markets, when investors are confident, they want to chase yield (JNK).