Chris Ciovacco: While inspectors from the International Monetary Fund, EU and European Central Bank, known as the troika, are in Athens to review the books, Reuters reported Sunday:
Greece will miss deficit targets set just months ago in a massive bailout package, sources said citing a budget draft being adopted by the cabinet on Sunday, in a setback in Europe's efforts to stave off the country's bankruptcy.

Two sources confirmed the new budget numbers, which predict a budget deficit of 8.5 percent of gross domestic product (GDP) for this year and 6.8 percent next year, compared with targets of 7.6 percent for this year and 6.5 percent for 2012.
With Germany hinting last week the terms of the bailouts may need to be revisited, these latest developments may put more pressure on financial markets as we enter October.  Back in the United States, more economists and economic forecasters are migrating to the recession camp. From the Economic Cycle Research Institute's (ECRI) website (9/30/2011) :
Early last week, ECRI notified clients that the U.S. economy is indeed tipping into a new recession. And there's nothing that policy makers can do to head it off. ECRI's recession call isn't based on just one or two leading indexes, but on dozens of specialized leading indexes, including the U.S. Long Leading Index, which was the first to turn down – before the Arab Spring and Japanese earthquake – to be followed by downturns in the Weekly Leading Index and other shorter-leading indexes. In fact, the most reliable forward-looking indicators are now collectively behaving as they did on the cusp of full-blown recessions, not "soft landings."
From a technical perspective, September closed out with numerous long-term bearish signals present on weekly and monthly charts (see table below).  The signals below tell us the odds favor bearish outcomes in October.  Could stocks rally instead?  Sure they could, but it is the lower probability outcome given the fundamental and technical backdrop.  The downside potential of stocks and the euro we outlined on September 23 remains in play as we head into the typically volatile month of October.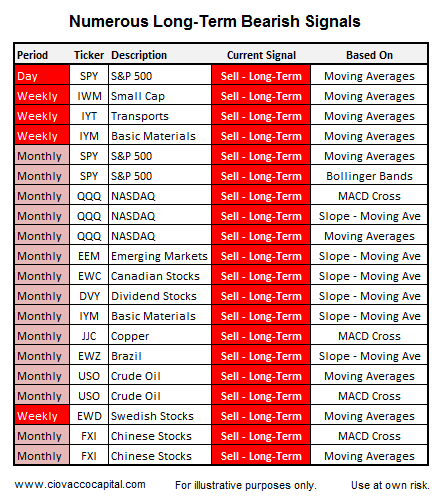 Our bias will be to favor deflation-friendly assets such as bonds (NYSE:TLT), the U.S. dollar (NYSE:UUP), and shorts (NYSE:SH).  The video below provides commentary on the S&P 500's (NYSE:SPY) current trading range, the economic outlook in the U.S., and the monthly bearish signals that carried into the end of September.
Written By Chris Ciovacco From Ciovacco Capital Management, LLC
Chris Ciovacco began his investment career with Morgan Stanley in Atlanta in 1994. With a focus on global macro investing, Chris uses both fundamental and technical analysis to assist in managing risk while looking for growth opportunities around the globe in all asset classes. If you are looking for an independent money manager or financial advisor, Ciovacco Capital is worth a look. Chris graduated from Georgia Tech with Highest Honors earning a degree in Industrial and Systems Engineering in 1990. His experience in the professional ranks began in 1985 as he began working as a co-op for IBM in Atlanta.
Ciovacco Capital Management, LLC (CCM) is an independent money management firm serving clients nationwide. By utilizing extensive research, disciplined risk management techniques, and a globally diversified approach, CCM prudently manages investments for individuals and business owners. Our focus is on principal protection and purchasing power preservation in an ever-changing global investment climate.
Want More Great Investing Ideas?