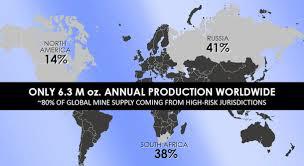 Remember South Africa and Russia control the PGM market with over an 80% share of global supply.

Nickel supply was controlled by Indonesia which just announced an export ban.
PGM's and nickel are outperforming for the following 10 reasons.
1) Ongoing Labor Strikes in South Africa
2) Tensions with Russia and Ukraine
3) Auto sales rising in China to record levels.
4) China requires increasing amounts of PGM's used in catalytic converters to control air pollution.
5) Indonesia which represents about 25% of global nickel supply has announced export bans. This is comparable to announcing the OPEC nations cutting off oil supply.