Investment Implications
Understanding we are pushing the "boy who cried wolf" envelope relative to emphasizing the vulnerable technical state of the markets, it should be noted that markets that slice through a flat 50-day moving average often morph into corrections (right side of chart below). Therefore, we can use the S&P 500's 50-day as another guidepost. The good news is price closed above the 50-day Thursday after dropping below it intraday (left side of chart below). The bad news is the flat look of the 2014 50-day; it is indicative of indecisive investors. A good rule of thumb: do not anticipate what will happen tomorrow; the market rarely cooperates.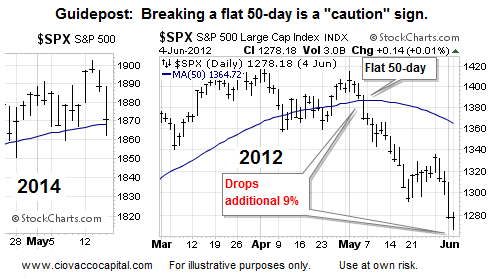 The ongoing situation with Mr. Putin played a role in Thursday's pullback in equities, reminding us that it needs to remain on our risk-management radar. From Reuters:
Global equity markets fell on Thursday and safe-haven U.S. and German government bonds rose on fears over escalation of the crisis between Russia and Ukraine. lovak Prime Minister Robert Fico said Russia's Vladimir Putin told multiple European states that Moscow will not supply gas to Europe as of June 1 if Ukraine does not pay its bills. Moscow and Kiev have taken tentative steps to resolve this dispute.
We made no changes to our mix of stocks (NYSEARCA:SPY), bonds (NYSEARCA:TLT), and cash Thursday. However, we did review all accounts and build trade files for two possible defensive chess moves; just in case Friday morning gets hit with an ugly stick. TLT gave us something green to look at Thursday; it gained 0.80%.
This article is brought to you courtesy of Chris Ciovacco from Ciovacco Capital.