Billionaires Portfolio: Retail-Apparel stocks have been hit hard due to the extreme cold weather conditions that have plagued most of the United States over the last two months, but a bottom could be finally in for retail-apparel companies.
American Eagle Outfitters (NYSE:AEO) one of the biggest and most profitable teen retailers had strong insider buying today. Jay Schottenstein, the company's interim CEO and Chairman stepped up big and recently purchased over 500,000 shares or more than $6 million dollars of the American Eagle's stock at around $12.84 a share. This purchase occurred some time over the last two days.
Any insider who purchases over $5 million dollars worth of his company' stocks is always a significant and bullish sign but especially the insider purchase comes when the stock has been in a significant decline.
Also technically it looks like American Eagle has formed a double bottom with an outside day, a major bullish reversal signal at around $13 a share. I think if this double bottom holds we might have seem the bottom forming in all retail and apparel stocks, and if so the risk reward of buying retail apparel companies has never been better.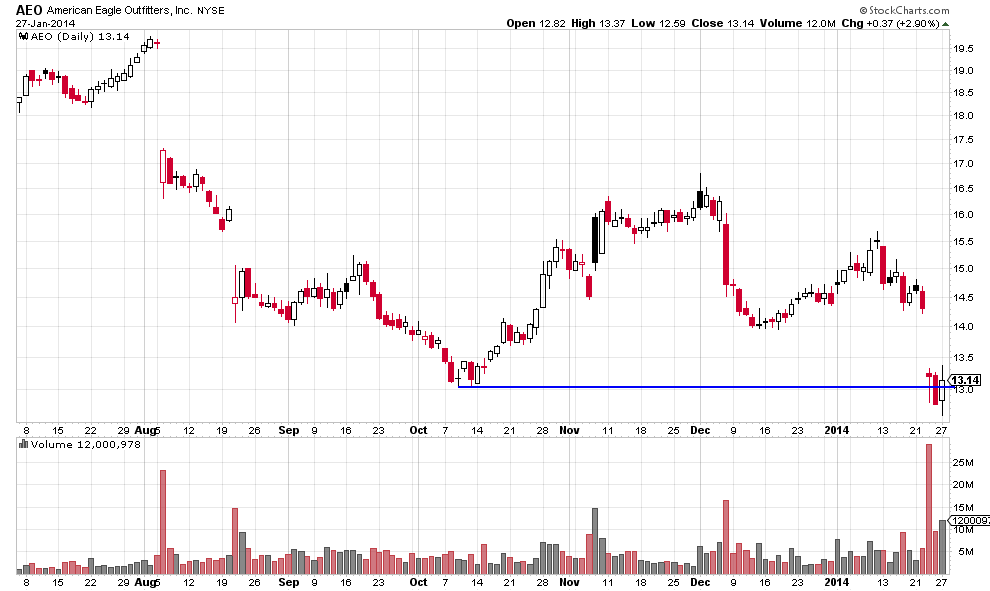 Please don't miss the opportunity to learn more about me and how we follow Billionaire Investors into stocks by visiting the Billionaires Portfolio.
Written By William Meade From The Billionaires Portfolio
William Meade is the President of Pure Alpha Research, a hedge fund consulting and investment research firm. He is the former Director of Research at Zacks Investment Research in Chicago. Before that, he was the lead analyst at a top performing $1.2 Billion dollar institutional investment firm and hedge fund. Mr. Meade has a Masters in Applied Economics from The Johns Hopkins University. Learn more about William Meade and how he follows Billionaire Investors into stocks by visiting the Billionaires Portfolio.