Jim Bach: The "Red Dragon" is awakening and the Chinese yuan has taken another swing at the U.S. dollar's security as reserve currency.
The International Monetary Fund (IMF) has begun debating whether the Chinese yuan should be included in the IMF's Special Drawing Rights (SDR) basket of currencies, the Financial Times reported.
The SDR is not a currency, but rather "a potential claim on the freely usable currencies of IMF members," according to the IMF website. The current basket includes the dollar, the yen, the euro, and the British pound sterling.
If the Chinese yuan is confirmed as an SDR currency, it signifies a growing interest within the international community in the yuan as a reserve currency – a widely used asset to settle international transactions.
German and Australian finance ministers support the move, according to The Wall Street Journal. The fact that the IMF is even considering this action is as much an endorsement of China's growing role on the global economic stage as it is an indictment of the U.S. dollar and other currencies.
China has long been vilified for a number of reasons and for many critics its emergence as a global economic powerhouse has been thought a farce.
Detractors have called China a currency manipulator. They say it has stifled wage growth and kept labor costs low to weaken the Chinese yuan and bolster its exports, all while exporting inflation to the rest of the world, but primarily the United States.
But China's principal role as a "currency manipulating" exporter is changing. The middle class is growing and the Red Dragon is no longer content to sacrifice a higher standard of living at the altar of roaring export growth.
"They've had the largest economy for 18 out of the last 20 centuries. They will have periodic fits and starts just like we have," Money Morning Chief Investment Strategist Keith Fitz-Gerald said. "The difference is, they're driven by 1.3 billion people that want to live the way we do, an economic machine that is still very much in growth mode, a working population that is a prime age – 18 to 54 – and they've got $3.1 trillion in reserves. We're $221 trillion in the hole."
China skeptics have been emboldened in 2015 by reports of slowing growth. And they continue to refer back to the same problems again and again.
"Doom, gloom, debt, ghost cities, taxation – they can't possibly survive," Fitz-Gerald said.
There is a theme in all of this criticism.
"The only consistency to all of that is the fact that these same people that have been calling for the demise for the last 40 years have been wrong for the last 40 years," Fitz-Gerald said.
Recently, China also opened up its domestic bonds to foreign investors. China's SDR push is yet another step in a much larger endgame for China.
"They will be the world's most sophisticated financial markets over the next ten years. They will absolutely supplant London and New York," Fitz-Gerald said. "They are rapidly modernizing their financial system… they've got futures, they've now got derivatives, they're beginning to bring their intellectual law up, their property law, their legal system – all the necessary implements for a true capitalist market are being put in place right now in China and they are not going to back down."
This modernization is all happening as the China bears seize on the headlines trumpeting China's slowing growth.
But they aren't just ignoring China's promising investment potential.
There is a much more worrying shift taking place – one that threatens to dethrone King Dollar and reassign the U.S.'s role from a global economic powerhouse to a second-tier currency issuer…
The Chinese Yuan's Shift to Power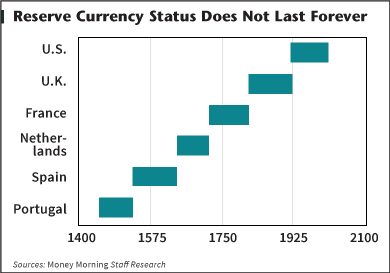 The dollar has been strong as of late. From its lows in 2008 to its highs in March, the U.S. Dollar Index – a measure of the dollar's value against six other world currencies – has gained as much as 41.3%.
And what's more, the 2015 first-quarter U.S. trade deficit was its highest in six-and-a-half years. By all measures, the dollar seems to be on top and its status as reserve currency unchallenged.