Peter Krauth:  China's ambitions for superpower prominence are no secret.
But that requires recognition on the world stage.
Inevitably, that also means a greater role for China's currency, the yuan, in the global finance arena.
There are clear and visible signs that China's currency is on the march to that global position, yet until now they've been underreported.
It's an unstoppable trend, and we can take advantage by taking these critical steps…
The U.S. Economy Remains King… but the Gap Is Narrowing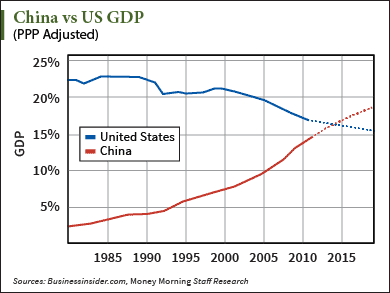 According to the International Monetary Fund (IMF), China has overtaken the United States as the world's largest economy. China's GDP is $17.6 trillion, versus America's at $17.4 trillion. The comparison, however, depends on the concept of purchasing power parity (PPP).
Essentially, it works like this: placing salaries and living costs on a similar footing, the two countries' purchasing power is compared.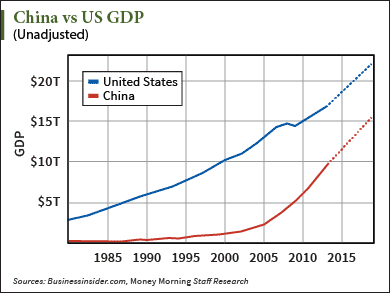 By this measure, China has moved ahead of the United States, as you can see in the graph above.
Is this the end of U.S. dominance? It's not that simple. Chinese GDP per capita remains less than 25% of American levels. So the U.S. is still the largest economy by the more common measure of pure output, as you can see in the graph at right.
On that basis, America is still ahead, but the gap is narrowing
Despite a slowing rate of GDP growth, China is still in the neighborhood of 7%, nearly triple the U.S. rate.
Europe Is Increasingly Exposed to the Yuan
Back in mid-October anonymous sources at the European Central Bank (ECB) indicated that the Governing Council would deliberate on the idea of buying Chinese yuan to include in their mix of reserve currencies. This makes perfect sense. After all, the European Union is China's single largest customer, accounting for $280 billion in imports to the EU last year. In terms of total trade, China is the European Union's second most important partner (after the United States), representing a whopping $428 billion in annual trade.
Europe's currency has been weakening considerably over the past six months against the U.S. dollar, even hitting a two-year low of $1.24 recently. Thanks to ECB president Mario Draghi's ongoing pledges to stimulate through bond-buying ad nauseam, it appears the euro's weakening trend is not ending anytime soon.
On the other hand, the yuan has gained strength against the U.S. dollar, moving up 2% since early June. Against the euro, the yuan has gained 6% in 2014.
For the ECB to include yuan as one of its reserve currencies therefore makes perfect financial sense. It's a form of diversification into a currency that's clearly gaining relevance, and which the union's members need to pay their largest supplier of goods and services.
ECB Executive Board member Yves Mersch said in February, "Due to the size of China's economy and its importance in global trade and, potentially, finance, the renminbi might ultimately come to challenge the U.S. dollar. The authorities and investors need to prepare for a world in which the renminbi will play a much more important role."
Former EBC president Jean-Claude Trichet recently co-chaired the International Finance Forum (a think tank) in Beijing. According to Trichet, "The global economy and global finance is at the turning point in a way… New rules have been discussed not only inside the advanced economies, but with all emerging economies, including the most important emerging economies, namely, China."