Ian Wyatt: You've been told an incredible lie. As a result, you've probably been losing thousands of dollars every year.
Nobody was trying to personally hurt you. But your portfolio – and income – has been suffering as a result.
That's because in the wake of the Great Recession, the Federal Reserve took aggressive steps to support the U.S. economy. They took out all the stops and quickly lowered interest rates from 5.25% to 0.25%.
When that happened, income investors had to change course. It was no longer possible to earn 3% from CDs, 4% from 10-year U.S. Treasurys, 6% from corporate bonds or more than 10% from junk bonds.
The solution was simple: dividend stocks. The media, financial commentators and even the research analysts here at Wyatt Investment Research recommended that income investors sell fixed-income investments and buy dividend stocks.
Many investors reacted by rushing into the highest-yielding stocks. With share prices down from their highs, dividend yields were attractive. Compared to the alternative – 0% at the bank or 2% with bonds – high-yield stocks seemed pretty sweet.
But since the Federal Reserve dropped the federal funds rate to a range of 0%-0.25%, stocks have roared higher.
Fed Drops Interest Rates: S&P 500 Up 138%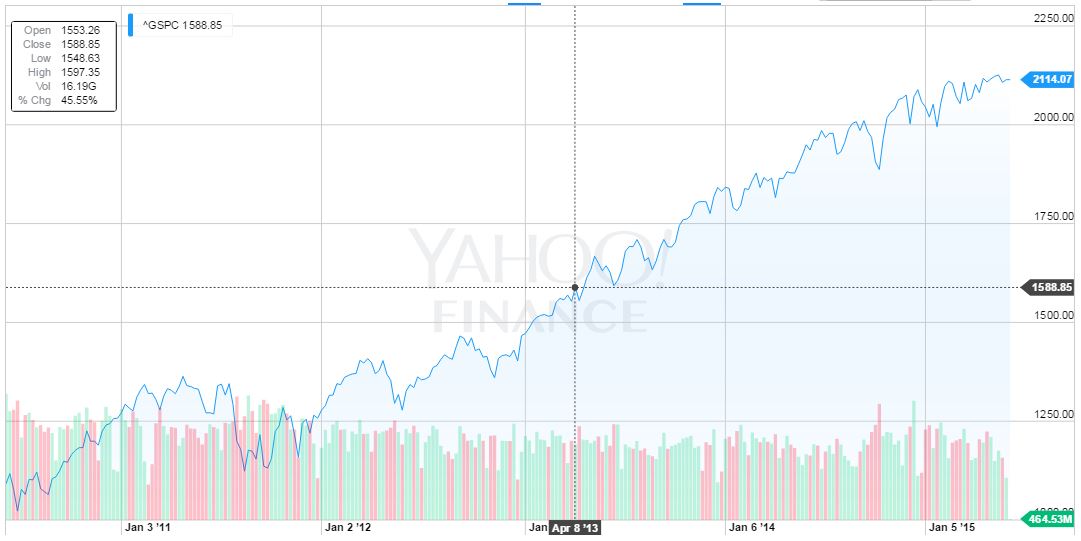 The problem is that the highest-yielding stocks haven't done particularly well. In fact, the higher the yield, the worse the performance.
Unfortunately, many income investors mistakenly flocked toward stocks with the highest yields. These included companies that are "tax advantaged" – including business development companies (BDCs), master limited partnerships (MLPs) and real estate investment trusts (REITs).
Since 2009, the prices of these special classes of stocks have dramatically underperformed the S&P 500. Even after factoring in those healthy dividends, these investments have fallen short.
Dividend stocks have fared much better.  Since early 2009, the iShares Select Dividend ETF (NYSEArca:DVY) is up 90%. Today the ETF yields 3.1%. That's not a huge yield, but it's 61% more than you would collect investing in the SPDR S&P 500 ETF (NYSEArca:SPY).
While the extra income is nice, the capital returns are far more important for long-term investors. And the bottom line is that the S&P 500 has done better than BDCs, MLPs, REITs or dividend stocks since the Fed lowered interest rates.
That's right. Over the last six years, your investment portfolio would have been best invested 100% in the S&P 500 index.