Kyle Anderson: Today we want to show you the best way to invest money in tech stocks – which are on fire in 2015.
Through May 18, the Nasdaq has posted a gain of 7.3% in 2015.
That's nearly three times the return of the Dow Jones Industrial Average.
During the same time, the bellwether Dow is up just 2.7%.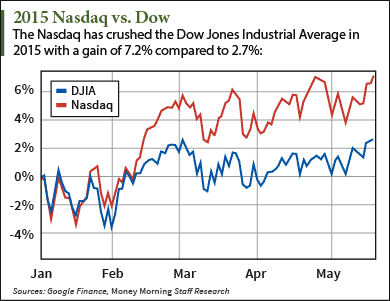 One reason for this Nasdaq climb: the companies it holds…
"For its part, the Nasdaq is much more of a growth story," Money Morning's Defense and Tech Specialist Michael Robinson said. "It's brimming with younger, more aggressive firms in growth fields like biotech, the mobile revolution, cloud computing, Big Data, and the connected car."
The Nasdaq has outperformed the S&P 500 in 2015, too. That index is up just 3.4% this year.
"Tech stocks as a group absolutely crushed the overall market in this year's first quarter," Robinson said.
And that success will continue through 2015. Robinson says that we've reached a "tech tipping point," which means tech will continue to outperform the markets.
That's why we took a closer look at the best way to invest money in tech today, for maximum profits…
Why We've Reached the "Tech Tipping Point"
When Robinson refers to the tech tipping point, he means that society cannot get by – hour by hour – without a variety of advanced technology.
"People depend on smartphones, tablets, social networks, e-commerce, video streaming, and the tech-laden connected car," Robinson said. Businesses must have mobile workers, cloud computing, smart data analytics, robotics, cybersecurity, sensors, software, and much more to survive and compete."
And that's just the start…
"Consider what's happening with the mobile revolution," he continued. "The iPhone, launched less than a decade ago in June 2007, was essentially the world's first smartphone.
"These days, tech companies are selling more than 1.2 billion smartphones a year, according to figures compiled by Gartner. And when you look at the broader market for all mobile phones, the numbers are even more impressive."
Just take a look at the growth of the mobile advertising market. Five years ago, the market was basically non-existent.
According to research from eMarketer, spending on mobile ads will reach $101.37 billion in 2016. From 2013 through 2016, the mobile ad market will have grown 430%.