We've hit peak economic gold discoveries, but unlike the new fracking technologies that saved the oil industry, there's no fracking technology to coax mineral wealth from ever-deeper deposits. In the face of this shortage, expert geologist Brent Cook of Exploration Insights is scouting out companies that are cashed up and poised to deliver value when other miners may be left scraping the bottom of the barrel. In this interview with The Gold Report, find out what Cook expects for gold exploration in 2015, and why the next few years are going to be very interesting indeed for yellow metal miners.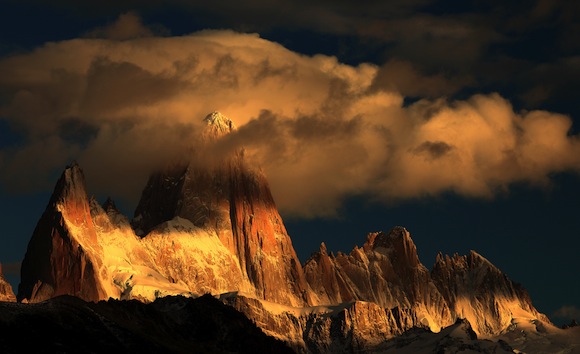 The Gold Report: Brent, you've quoted Goldcorp Inc.'s (G:TSX; GG:NYSE) CEO, Charles Jeannes, saying that we've reached peak economic gold production. What led us to this point?
Brent Cook: That's a big question that really goes back to what was happening in the global exploration sector 20+ years ago. I don't want to get into the peak gold production idea but instead focus on the discovery curve and what's behind the problem we are seeing in the gold sector.
Why aren't we finding as many gold deposits as we used to, or at least as many economic deposits? In 1995 or so, the discovery boom in the gold sector peaked and that success is largely tied to the opening of large areas of earth that were previously off limits to serious exploration. Since then, exploration success and new discoveries have trended down. However, in terms of gold production, it's taken about 20 years for all those discoveries to work their way through the system to come into full production.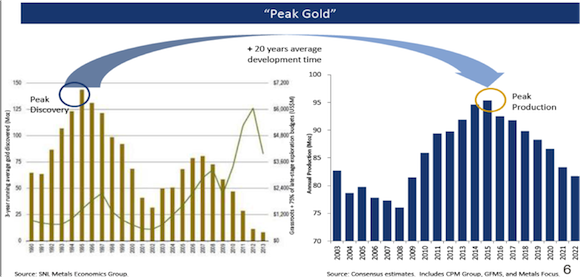 So what Charles Jeannes sees is that in 2015 or so, gold production is going to be tapering off as opposed to expanding. That's especially true given the current gold price and cost structure. A lot of these companies aren't making much money, or any money at all. They'll be shutting down loss-making projects over the coming years.
TGR: Are we running out of gold in the world, or did we just not make an investment in a timely manner, say, 20 years ago?
"Pilot Gold Inc. is a very smart group that is doing good work."
BC: No, we're not running out of gold. We're finding gold deposits, but most of them are not economic. That's really the issue here. For example, there are 20 million tons (20 Mt) gold in the ocean seawater, but it grades about 13 parts per trillion and will never be economic. It's that economic hurdle that is really at issue here.
In the 1990s, the world opened up to exploration. We found a lot of deposits sitting at the surface in jurisdictions that were once inaccessible, basically the low-hanging fruit. But by and large, there is a finite number of outcropping ore bodies and the few remaining are increasingly difficult to find. We've nearly exhausted the surface and are forced to drill for blind deposits through barren rock using really esoteric methods. The odds of success are much lower, and the costs are much higher.
I'll give you an interesting ballpark figure that is based on how geology and the earth work. For every, say, 10 gold deposits of 1 million ounces (1 Moz) grading 1 gram per tonne (1 g/t), the earth formed one deposit of 1 Moz that grades 2.5 g/t. Those are more or less the odds. The problem is that although a 1 g/t deposit may be economic at surface, when it lies under 200 meters of barren cover, it is no longer economic. The unfortunate reality for us explorers is that those odds mean that we are still going to find about ten 1 g/t deposits for every 2.5 g/t deposit. Our economic success rate has to go down, and the data back up that conclusion. That is also the reason we have so many companies boasting NI-43-101-compliant resources that in my view will never be converted to economic reserves—never.
TGR: Isn't there just a lot less investment in exploration happening right now, with companies trying to cut costs?
BC: Yes, that's a really good point. Exploration has been cut to the bone across the sector. In the junior sector, it's almost impossible to raise money for exploration. So, yes, we're not spending enough money to find quality deposits, and this situation is going to get worse. Additionally, consider the fact that new discoveries are going to cost more to make because 1) for the most part they are going to be deeper so they will require more drilling just to have a look, 2) as I mentioned previously, we are going to find more uneconomic or marginal deposits than economic ones, and 3) for the most part those uneconomic deposits will have to be drilled out just to see what they grade. So each new economic discovery will cost the industry more than in the past but we are spending considerably less looking. What does that tell you?
TGR: What's the lag time? When are we going to see the effect of that lack of investment?
BC: I think we'll start seeing it next year and, certainly, into the coming years. My investment thesis is that the mining companies that are currently in production are going to eventually wake up to the fact that they have nothing on-line to replace what they've been mining. That's when they're going to have to go out and buy the few deposits that make money. Those are the deposits you want to own early on.