Please note that the nearest support is the September low and the 38.2% Fibonacci retracement level. If it is broken, the next one support zone will be slightly below $100 per barrel where the 50% Fibonacci retracement level intersects with the June high.
Once we know the current short-term outlook for crude oil, let'€™s take a closer look at the chart below and check the link between crude oil and gold. Has it changed since our previous essay on oil and gold was published? Let'€™s examine the daily chart.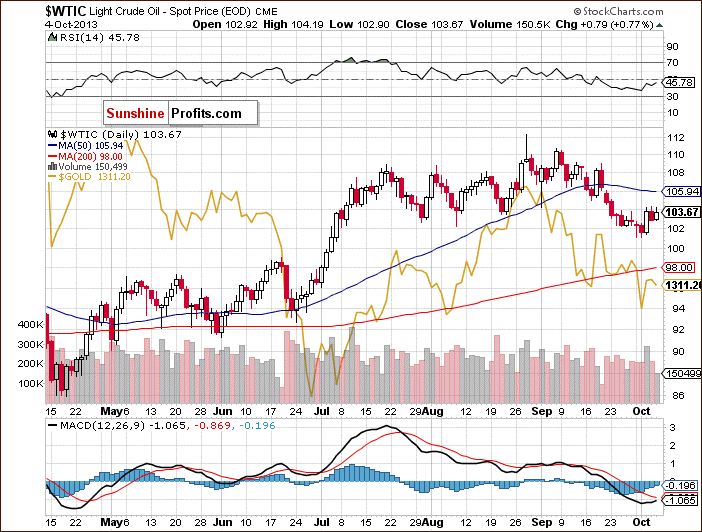 Looking at the above chart, we see similar price action in both commodities at the beginning of the previous week. They declined on Monday, however, in the case of crude oil, the buyers managed to hold the September low in the following days, which resulted in a sharp pullback on Wednesday. Meanwhile, gold declined and reached its new lowest level since the August top. Despite this drop, the rest of the week looked similar for both commodities.
Summing up, looking at the relationship between crude oil and gold, we notice similar price action in both commodities in the previous week. Therefore, if this relationship remains in place, we could see some strength on a short-term basis in case of the yellow metal and crude oil. However, we should still keep in mind that the recent decline in crude oil is just slightly bigger than the previous ones and light crude remains above the 38.2% Fibonacci retracement level, which forms strong support. From this point of view, the uptrend is not threatened at the moment. At the same time, the downtrend in gold remains in place and the yellow metal remains below the declining resistance line which has already successfully stopped buyers several times.
This article is brought to you courtesy of Nadia Simmons from Sunshine Profits.
Related: United States Oil Fund LP ETF (NYSEARCA:USO), United States Brent Oil Fund, LP (NYSEARCA:BNO), ProShares Ultra DJ-UBS Crude Oil (NYSEARCA:UCO).
Want More Great Investing Ideas?