Przemyslaw Radomski, CFA: Last week the price of the white metal climbed to an over two-week high after U.S. Federal Reserve Chairman said its huge stimulus program would stay in place for some time. Investors are now focused on Ben Bernanke once again.
"The main focus is Bernanke's testimony to the Congress, and that should really give us more guidance to whether tapering will start in September or December," Danske Bank analyst Christin Tuxen said.
Could this above-mentioned event trigger a breakout above the important resistance level? Or maybe the worst is not behind us and we will see further declines in silver?
Recently, there has been much talk about gold's price. This has pushed silver a little bit to the side, which we don't think is quite fair. Because of that, we devote our today's analysis solely to the white metal. Let's take a look at the charts and find out what's the current outlook for silver.
Today we will start with the analysis of the silver long-term (charts courtesy by http://stockcharts.com).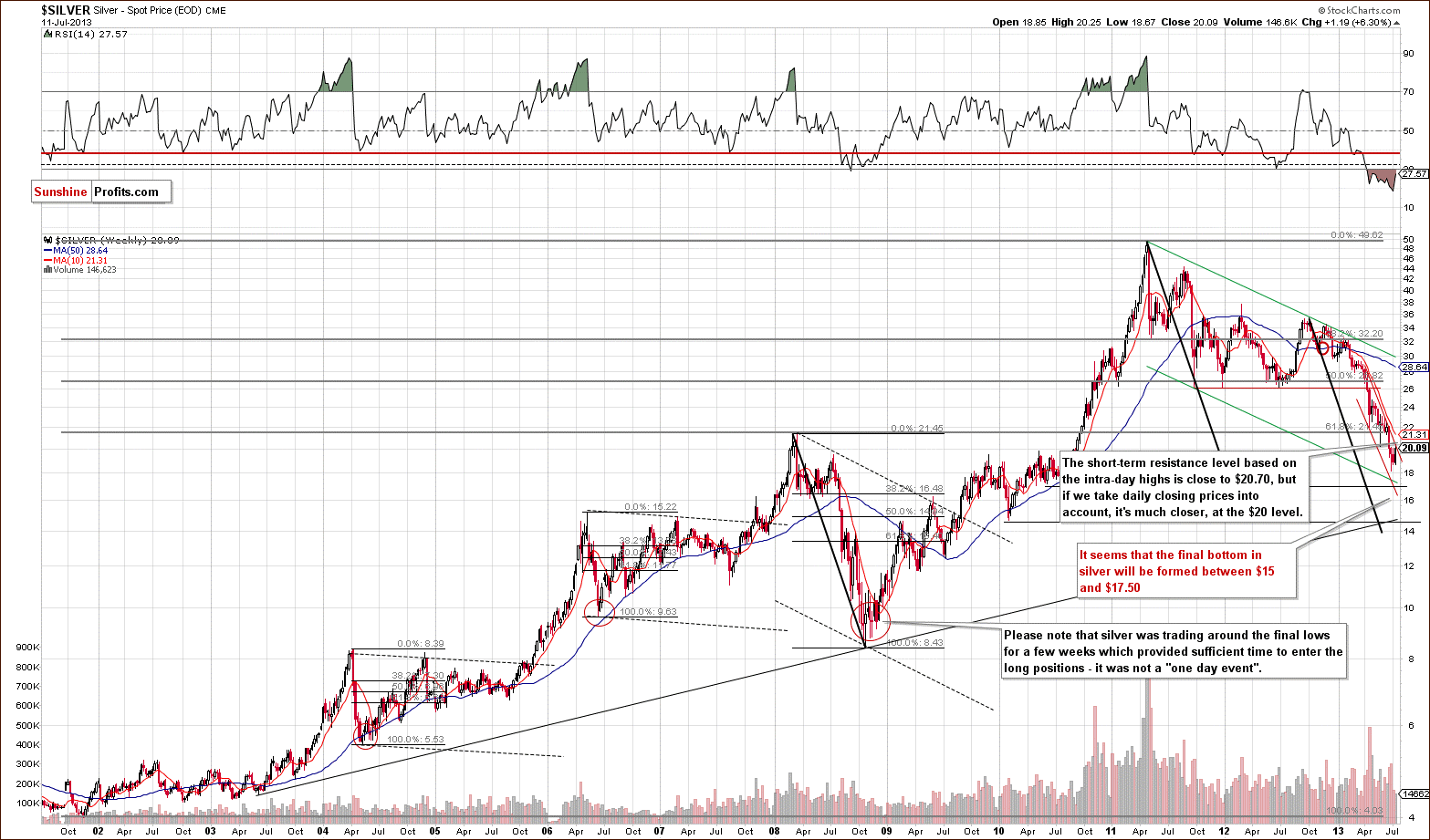 In this week's very long-term silver chart, we have a situation somewhat similar to what we saw happen with gold last week. Silver also moved higher and attempted to move above the declining resistance line, finally closing right at it (a few cents below the $20 level) without breaking it.
Technically, at this time we have no breakout, so the situation remains bearish (even the short-term trend). The downtrend will remain in place here unless silver can increase and hold a breakout above the $20.70 price level (this is a short-term resistance level based on the intra-day highs).
In the recent days we haven't seen such action. Therefore, in our opinion last week's rally was nothing more than a contra-trend bounce.
Once we know the current situation in silver, we think it would be interesting to revisit the silver-to-gold ratio to see how the two are valued relative to each other.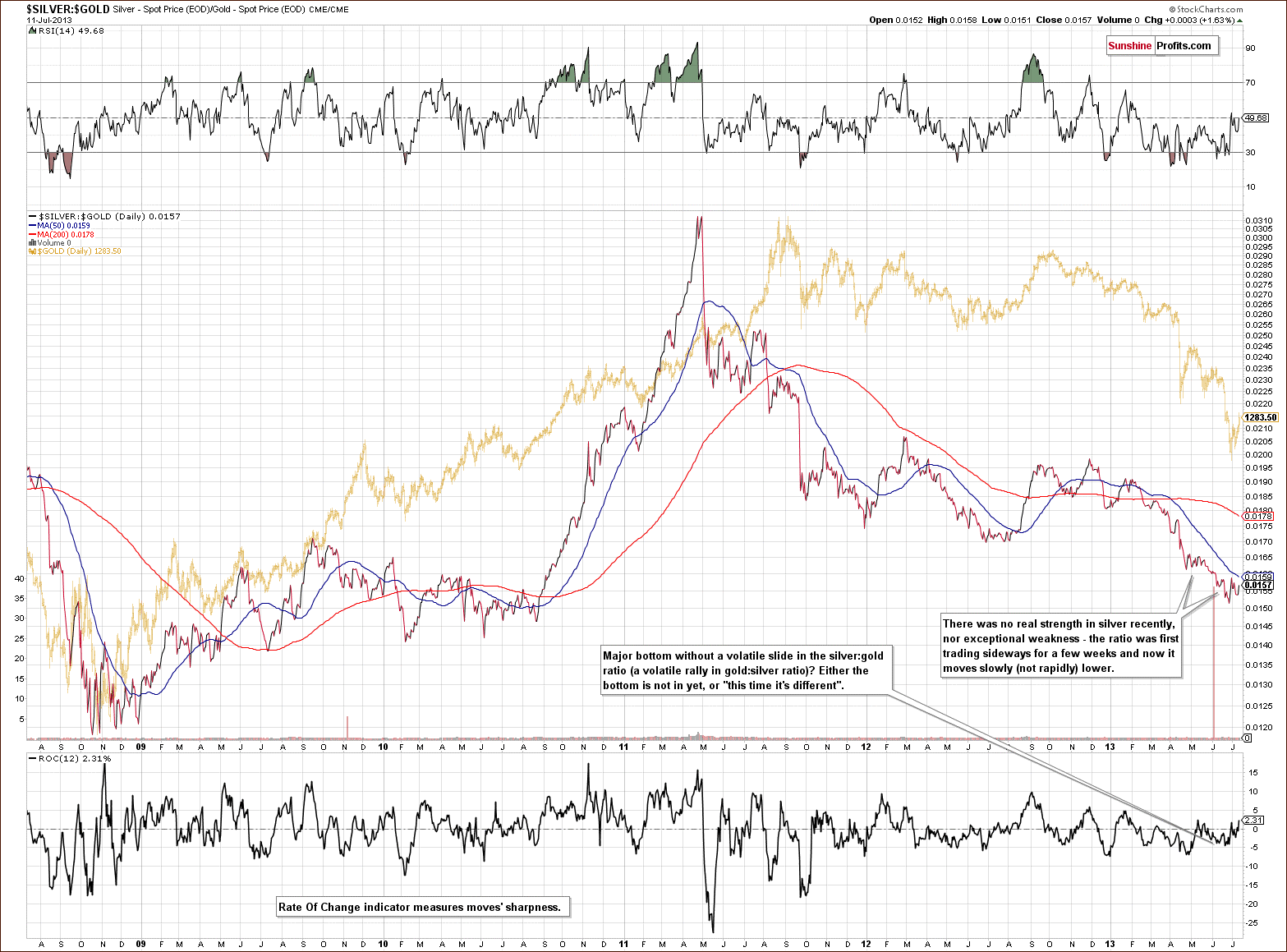 In the silver-to-gold ratio chart, we still see no signal of a bottom.
As we wrote in our essay on gold, stocks and the dollar on June 26, 2013:
"(…) the final bottom for the white metal is often preceded by a big underperformance of silver to gold."
We have not seen signs of such action last week, so it seems that the final bottom is still ahead of us.
If that's the case and the white metal is about to move lower, let's take a look at our final chart today and find out if it confirms the bearish clues.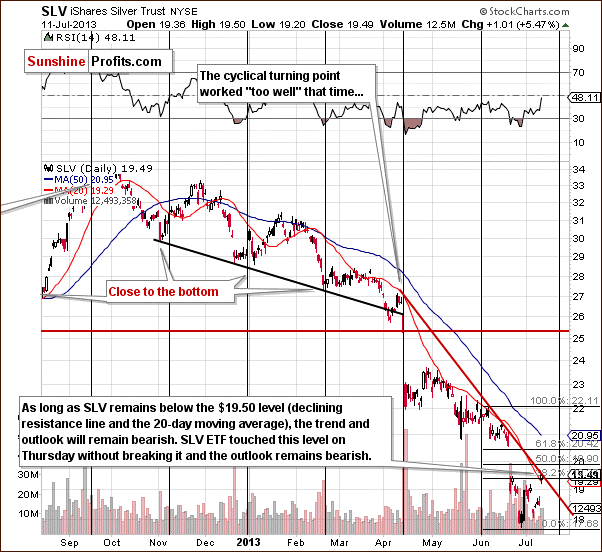 In this medium-term iShares Silver Trust ETF (NYSEARCA:SLV) chart we see that silver is now slightly above the declining resistance line. We should pay attention that this level coincides with two more resistance levels.
The first is the 20-day moving average, the red slope in our chart, which has proven to be an important resistance line since it was broken in February. It has been tested a number of times since, and such is the case once again. All the previous cases were followed by downswings.
The other level is the first Fibonacci retracement level, 38.2% based on the June decline. From this point of view we can clearly see that silver did not move above these two resistance levels.
At this point, we think it's worth to mention another bearish indication.
Last week we saw a move to the upside for silver on relatively weak volume. In the recent past, this was also seen before bigger declines. This was the case in early June, late May, early May and also in April. It seems that we have this once again (the volume we saw yesterday was exceptionally tiny).
Summing up, silver moved higher last week and rose on Thursday to its highest level since the June 28 low. Despite this growth, there was no breakout and the downtrend is still valid. We think that the next move for silver will be down and in tune with its recent and current short-term trend.
This article is brought to you courtesy of Przemyslaw Radomski from Sunshine Profits.