Kevin McElroy:  Gold prices (NYSE:GLD) hit an all-time high on Tuesday, climbing above $1,900 an ounce in mid-day trading. Prices have since dipped to around $1,815, leaving many investors wondering what's in store for the precious metals market.
I have to admit: I'm something of a Jim Rogers fan. I've read all of his books. I watch every one of his appearances on TV, and I study his career and investments extremely closely.
In a world where talking heads and b-school economists blather on in flowery finance-speak that doesn't make a lick of sense, Jim Rogers seems to always speak in a clear, simple and easy to understand manner.
He speaks the language of commodities.
And while I always do my own due-diligence, I put a lot of stock in what he says – sometimes literally.
Even though I know the commodity train is still running, sometimes it's nice to put my ear to the tracks and hear Jim Rogers saying the bull-market is going to roll on – the same things I've independently verified for myself.
For instance, I hear lots of people saying that while commodities have had a nice run, the bull market in "stuff" is nearing its end. That begs the question: how long can a commodity bull market last?
It's a valid and important question.
I'm a commodity investor, but not for sentimental reasons. As much as I value gold as a hedge against inflation, or oil's ability to make my car go vroom – I invest in commodities for fundamental reasons – largely because I believe they are still cheap and undervalued from a historical perspective.
So, back to the question at hand. How long can a commodity run last?
Jim Rogers answers that very question in his 2004 book "Hot Commodities." Specifically, he references a study by Legg Mason – which found that the average commodity bull-run lasts between 17 and 18 years. The study also revealed that every commodity bull market in the last 130 years has coincided with a bear market in stocks.
In the chart below, you can see this trend at work.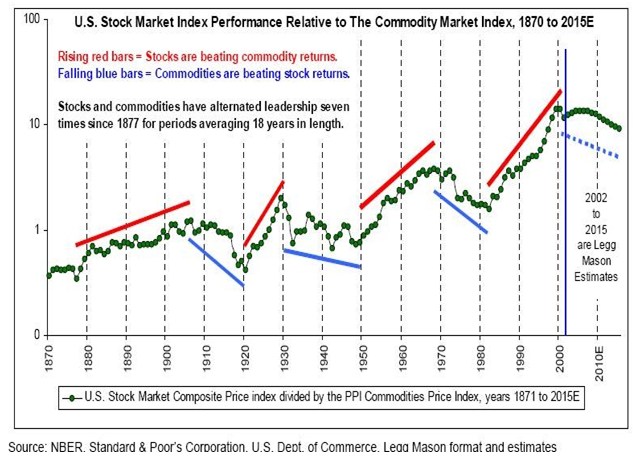 The chart also shows that we've only been in a commodity bull market for 11 years at most. The shortest bull market in commodities was between 1969 and 1981, a 12 year period. The longest was between 1930 and 1950, or 20 years. By historical standards we should have at least another year to go before the gravy train slows.
Will this commodity bull-run be the shortest in history? I doubt it. Most commodities I follow are still cheap. Some nominally so, but most are historically below their inflation-adjusted highs. At the end of every other commodity bull run, prices for most commodities were above their inflation adjusted highs.
For instance gold's inflation adjusted high is over $2,200 an ounce. Compare that to today's prices of just over $1,800 an ounce.
Natural gas (NYSE:UNG) (as I've stated in the past) isn't just cheap – it's almost impossibly cheap. I don't know how natural gas companies can stay in business with prices this low. Natural gas currently sells for just over $4 per thousand cubic feet. That's the equivalent of gasoline at 50 cents a gallon. The strongest of these companies are still a screaming deal right now.
The list goes on. Silver (NYSE:SLV) is even cheaper than gold right now. Copper (NASDAQ:CU) has nearly doubled over the past couple of years, but it's 75% cheaper than inflation adjusted highs of over $14 a pound in the mid 1970s.
Okay – you get the idea. My point is: commodities are still undervalued. It's a long-term trend that's still unwinding. The numbers don't lie. And neither does Jim Rogers.
Written By Kevin McElroy From Wyatt Research
Kevin McElroy is a top rated commodity researcher and analyst specialist at Wyatt Investment Research, with a targeted focus on short and long term investment opportunities.  He has worked in the investment publishing field for over three years alongside some of the world's leading commodity traders and analysts.  He takes the complex futures and options trading strategies from the floors of the Nymex and the CBOT, uniquely combines them with economic trends and positions his recommendations in a way that any investor, from a straight long-term buy and hold investor to a sophisticated day trader can easily understand, implement, and profit.   
Kevin constantly finds unique ways to profit from the "real stuff" like oil, gold, iron, corn – the energy, money, goods and food that the world constantly needs more of.  Kevin is the daily editor to Resource Prospector and a contributor to Energy World Profits and Global Commodity Investing.