Rick Pendergraft:  I received a bullish signal on the iShares Silver Trust (NYSEARCA:SLV) when I ran my scans after the close on Friday.
One of the things that caused the bullish signal was a bullish crossover of the daily stochastic readings. Looking at the daily chart, we see that the last two times these indicators have made a bullish crossover, it has been a good sign for the ETF. The crossover in November led to an 11% gain over a month and a half. The bullish crossover in December preceded a 17% move to the upside.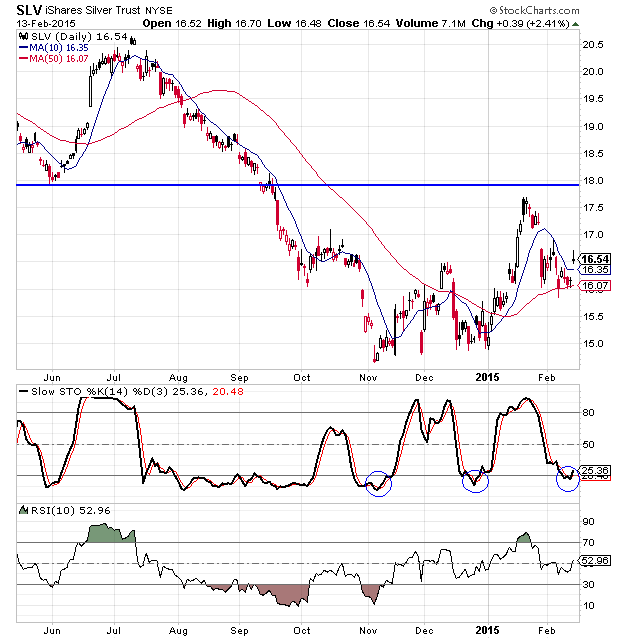 Based on the previous moves when the stochastic readings crossed, the short-term outlook for the SLV is bullish. I also like the fact that it has been using the 50-day moving average as support recently. The concern is the potential resistance up at the $17.90 range. That was the low last May and it is just within the target move based on the 11% from the crossover signal in November.
If we take a step back and look at the weekly chart, we see even more potential concerns for the SLV.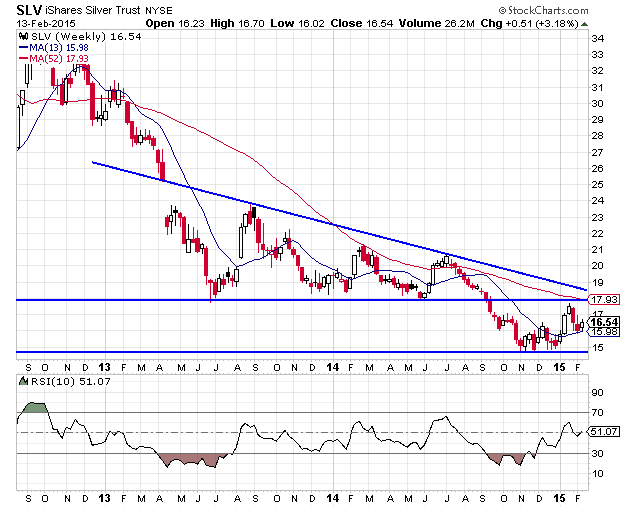 We see the same resistance point from the low in May, but we also see a downward-sloped trendline that connects the highs from the past two years. It is also interesting how the low connects the close just before the gap downward in the spring of 2013. I can't say I have ever seen something like this before where highs that connect to form a downtrend also connect to a low before a gap.