That beat consensus estimates that had JCP pegged for an EPS loss of $1.25 on $2.7 billion in revenue.
For JCP stock, the story of 2014 is that the company hasn't performed as poorly as everyone thought.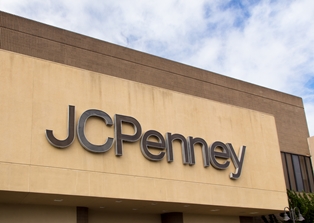 This is the second straight quarter that JCP shares have surged following its earnings report.
In February, the stock jumped 16% following its 2013 Q4 earnings report. At the time, JCP reported a loss of $0.68 per share on $3.78 billion in revenue.
Again, those dismal figures weren't as bad as the $0.85 loss analysts had expected.
For the first quarter, J.C. Penney reported that online sales grew 25.7% compare to the previous year.
It also reported that same-store sales were up 6.2% in the quarter, and that sales improved each month.
The company reported that gross margin was 33.1% of sales, which was up from 30.8% last year.
JCP also reported that operating income was a loss of $247 million, which was 49% better than last year's total.
"Despite a difficult retail environment, our strong performance during the Easter holiday period and other key promotional events enabled us to deliver better than anticipated sales results," Chief Executive Officer (CEO) Mike Ullman said in a statement.
With JCP stock surging, here's the best way to play it…
How to Play J.C. Penney (NYSE JCP) Stock Now
At today's closing price, JCP stock is down almost 56% in the last year and 76% since May 2012.
However, after hitting a low just under $5 in early February, the stock is up more than 112% after topping the $10 mark in after-hours trading today.
While the stock is up dramatically from February lows, it's still tough to have faith in JCP stock.
The company is still reporting huge profit losses and has a return on equity of negative 44%.
But JCP is attempting to turn around those dismal figures with this old strategy…
The company is trying to undo much of the damage that former Apple Inc. (Nasdaq:AAPL) executive Ron Johnson did during his brief two-year stint as CEO.
When Johnson arrived in 2011, he took the focus off of discount retail and home goods sales and instituted a "store-within-a-store" concept in which apparel was separated by designer.
In April 2013, J.C. Penney brought back former CEO Myron Ullman who has once again emphasized discounted "in-house" brands and the store's home-goods section.
Home goods sales have accounted for 20% of the stores sales in the last year and will be key to JCP's success moving forward.
JCP may not be dead yet, but it still has a way to go.
"While we remain Neutral and concerned structurally on Penney's position in the retail food chain, we see a scenario where the stock could rally in the near term," analysts at Sterne, Agee & Leach said in a research note.
Investors will want to see several quarters of earnings growth from JCP stock before declaring the stock a buy.
Improving the operating loss figure will also be a major step forward. Investors who bought JCP stock on historic lows in February will do best holding the stock for now.
Written By Kyle Anderson From Money Morning
We're in the midst of the greatest investing boom in almost 60 years. And rest assured – this boom is not about to end anytime soon. You see, the flattening of the world continues to spawn new markets worth trillions of dollars;new customers that measure in the billions; an insatiable global demand for basic resources that's growing exponentially; and a technological revolution even in the most distant markets on the planet. And Money Morning is here to help investors profit handsomely on this seismic shift in the global economy. In fact, we believe this is where the only real fortunes will be made in the months and years to come.