Lawrence Meyers:  Earlier this year, John Malone took a 3.4% stake in Lions Gate Entertainment (NYSE:LGF). Malone rarely makes a minority investment. It's a sure thing he will acquire more of this company. But there's a lot more to this story.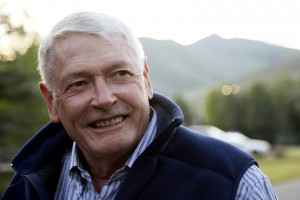 John Malone (Source)
He may even buy so much that it becomes a megadeal with AMC Networks (NASDAQ: AMCX) and Starz (NASDAQ: STRZA), which is 100% owned by Liberty Media (NASDAQ: LMCA), although it has an independent board of directors. Here's my thinking on this possibility.
Starz produces original programming, which is now a necessity in the content world. It also justifies the fees that subscribers pay. The original programming initiative under Chris Albrecht has resulted in so much success that it has more subscribers than Showtime. So Starz has studio content deals to show movies in the pay-TV window, original programming, a subscription base, and a nifty brand.
It has $325 million in cash, $1.2 billion in debt at about 4% interest, and generates decent if not spectacular free cash flow.
As a basic cable programmer, and owner of IFC, SundanceTV, WE TV and 50% of BBC America, AMC Networks has a strong group of niche audiences. Led by Charlie Collier, AMC has gained respect as a producer of quality programming.
Net income is all over the place because of the ebb and flow of new content, but it is valued at 20x earnings, or $5.29 billion. Free cash flow here last year was $330 million, it has $241 million of cash, and $2.64 billion of debt.
Looks Like a Good Fit
So there's a good fit here as far as combining basic and pay cable from a content standpoint. Also, it would give the combined entity more leverage as far as carriage fees are concerned.
However, it leads to the question of how Lions Gate gets involved, if at all. Lions Gate is particularly intriguing, which is why Malone was obviously interested. Lions Gate not only produces content for film and TV, including "Orange is the New Black" and "Nashville," among others. It also produces for films, like the big "Hunger Games" films. So with Lions Gate, it brings film production to the table – and film production with a track record of being successful (no easy feat). It also has $2.2 billion in cash and long term investments (although that's mostly its library, not really investments), and ZERO long-term debt.
Lions Gate's Free cash flow is erratic because it depends so much on its film's box office and ancillary revenues, but it can be as robust at $270 million and as so-so as $80 million in any given year. But it makes money and that's the point. It, too, is valued at around the same amount — $5.71 billion.
Want More Great Investing Ideas?