Marshall Hargrave:  The dividends being paid by defense stocks aren't eye-popping. But given the long-term return potential of these stocks, investors should be buying defense dividends.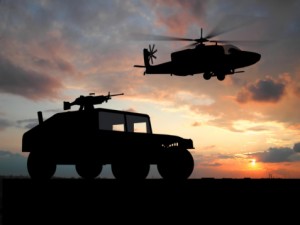 I've covered the defense industry in the past, noting that perpetual unrest around the world (referring to the turmoil in Iraq at the time) continues to drive defense spending higher. My colleague, Larry Meyers, has also been vocal about the benefits of the defense industry.
Even as the U.S. removes troops from the Middle East, there will be a serious need to replace and repair equipment.
Yet, the defense industry remains an underrated part of the investment community. Budget sequestration scared a lot of people out of the defense industry a couple years ago, but it has had little impact on the longer-term performance of these stocks.
The return for the Dow Jones U.S. Aerospace & Defense Index over the last three years is close to the return for the Dow Jones Industrial Average.
And the industry should remain a steady performer as the U.S. (and many other countries) continue to funnel money into their defense programs. The tragedy in Paris last week should serve as a reminder that there will always be a need for national security.
Without further ado, here are the top five defense stocks to own:
Defense Stock No. 1: Lockheed Martin Corporation (NYSE: LMT)
Lockheed Martin is the world's largest military contractor. Its prized product remains the F-35 fighter jet. Toward the end of last year, Lockheed upped its quarterly dividend by 13% to $1.50 a share. It's now paying the highest dividend of all five of our defense dividends, coming in at 3.1%. Lockheed Martin has upped its dividend for 12 straight years now.
Defense Stock No. 2: Raytheon Company (NYSE: RTN)
Raytheon is the sixth-largest military contractor in the world. Its specialty is in electronics, radar systems and high-tech missiles. And this just so happens to be an area where international companies are boosting spending in an effort to build out their defense systems. Think the Middle East and Asia.
It offers a solid 2.2% dividend yield and has upped its dividend for 10 straight years. Plus, its dividend payout ratio is just 35%.