Thomas Carreno:  The action in the stock market indices as of late has been out right boring in my opinion.  Where is the volatility? It is almost non existent.  This market is lately reminding me of the 1995 to 2000 time frame.  Slow trending markets, low volatility for the most part with occasional brief corrections, and sometimes more notable corrections.  It is utterly boring!  I want to see volatility like we had in 2008, at the low in 2009 and the mini flash crash of May 2010.  But I do not think my wish will be granted any time soon.  I think it is fair to say that for the most part markets spend most of their time oscillating slowly in trading ranges or slow trends.  Very high volatility is indeed a rare bird. 
We are getting into the summer time frame where the market moves into a low volume typical trendless fashion anyway.  But we are only in late May now. 
The market has declined since I issued a BOT short signal on May 11, 2011 at 1338 and we are currently trading slightly above that right now.  But this has hardly been a severe decline of any magnitude.  I will keep the BOT short signal active for a while longer depending on how the market behaves the next few weeks going into the June 13, 2011 Marty Armstrong Cycle Turning Point. 
The fact is that the S&P 500 is still on a weekly sell.  There is still a risk in the next week or two that the market decline can start to gain some more steam according to my charts especially if we close under this weeks weekly low next week which would confirm a weekly MACD histogram sell signal. 
From a volume perspective, there still exists that mid March 2011 very high relative volume swing low of 1249.  On the SPDR S&P 500 ETF (NYSE:SPY) this was on massive relative volume and I think there is at least still a chance the market could get pulled down into testing that low again because of its high volume and the recent light volume rally since the mid March 2011 low. 
Today we also closed under the short term up trend line for the second time.  For a much more bearish scenario to develop I think we really need to see some down price action early next week to continue the break of up trend, other wise this could be just another typical weak correction.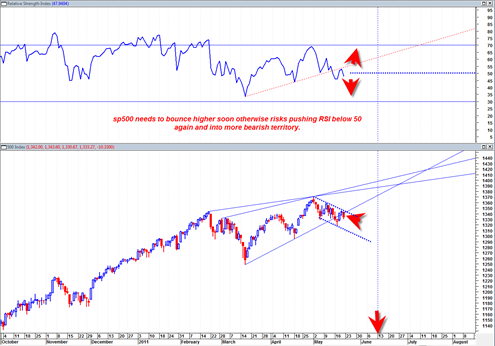 Daily Relative Strength Index is in a stance where if weakened further could start to change the dynamics of the current market trend.  So a down week next week would help to push that theory along quite well. 
Indices such as the Financial Select Sector SPDR ETF (NYSE:XLF) continue to be weak and sloppy.  Not that the XLF has been the best indicator in recent months, but the XLF was never able to EXCEED the April 2010 high.  I have to view this as a non confirmation and could potentially be a MAJOR warning flag for the broad market in the months ahead. 
The XLF failed or double topped at the April 2010 high again and it could be on a path back down to the lower part of the range or the 14 level. 
It will be interesting to see if this really is a top in the market at current levels, or perhaps we are simply in an extended sideways trading range with little forward progress.
Related Tickers: Direxion Daily Small Cap Bear 3X Shares (NYSE:TZA), ProShares UltraShort Dow30 (NYSE:DXD), Direxion Daily Financial Bear 3X Shares (NYSE:FAZ),  iPath S&P 500 VIX Short-Term Futures ETN (NYSE:VXX), Direxion Daily Small Cap Bull 3X Shares (NYSE:TNA), Direxion Daily Financial Bull 3X Shares (NYSE:FAS), ProShares UltraShort S&P500 (NYSE:SDS).
Written By Thomas Carreno From Best Online Trades 
I started 
Best Online Trades
because I really enjoy trading and I also enjoy writing about trading.  Writing about trading or trading strategies helps transfer thoughts that would otherwise stay in 'theory' and helps move them to more concrete form for me. And hopefully along the way you will pick up something useful as well. 
BestOnlineTrades
covers many different aspects of trading, from commodities to stocks, from indices to ETF's.