David Zeiler: The Microsoft stock forecast for 2015 is for another strong year as Microsoft Corporation (NASDAQ:MSFT) continues to adjust to a tech landscape radically different from the one it dominated in the 1990s.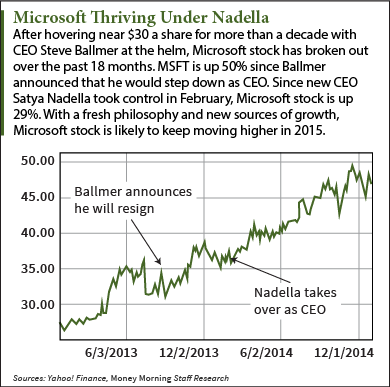 Microsoft stock has had two good years following a decade in which it had drifted sideways. In 2013 MSFT stock rose more than 35%. In 2014 MSFT has gone up 26%.
The positive move started in August 2013 when Chief Executive Officer Steve Ballmer announced he would step down. Microsoft stock really picked up momentum after new CEO Satya Nadella officially took over Feb. 4.
Under Ballmer, the Redmond, Wash.-based Microsoft was stuck in the past. Nadella's willingness to break with that past has re-energized the company. He's willing to focus on areas with the most potential to grow earnings, particularly the cloud. His vision for Microsoft will become much clearer in 2015.
Microsoft has much at stake in 2015, including the launch of Windows 10, a major revision of the iconic operating system that helped build the MSFT empire.
That's just one way Microsoft has laid the groundwork for a big year. Let's dig into the details…
Microsoft Stock Forecast 2015: Windows 10 Makes Amends
The single biggest event for Microsoft in 2015 will be the release of Windows 10. A consumer preview is slated for Jan. 21, with the release date coming mid-year.
Windows accounts for almost 28% of Microsoft's revenue. More to the point, it's the foundation on which almost everything the company makes is built.
Windows 8, released a little over two years ago, belly flopped. Many users disliked the look and feel of Windows 8, which was designed to unify the experience on PCs and mobile devices.
The reaction was so negative that Microsoft is skipping the name "Windows 9" altogether to emphasize just how much better Windows 10 will be.
The company has listened to its customers. Microsoft says Windows 10 will achieve the goal of a unified operating system across all types of devices by doing a better job of adapting to the device on which it's running.
So the first goal is to erase the bad taste of Windows 8 and get consumers excited about the new features Windows 10 can offer.
The second goal is more risky…
While Microsoft hasn't made it official, it has hinted it will adopt some kind of subscription pricing model for Windows 10.
Traditionally Microsoft has charged PC makers a licensing fee for each machine. Consumers who upgraded to newer versions of Windows paid out of pocket.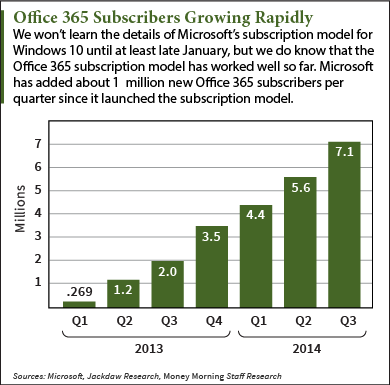 Microsoft started testing the waters of subscription pricing two years ago with its market-dominating Office 365 software.
That experiment has gone better than expected. Office 365 subscriptions have increased by about 1 million per quarter since its launch at the beginning of 2013.
Microsoft almost has no choice to switch. Apple Inc. (Nasdaq: AAPL) provides both Mac OS X and the iPhone's iOS at no cost. Google Inc.'s (Nasdaq: GOOGL, GOOG) Android system and Chrome OS are also both free.
Under the new model, a basic copy of Windows will be free, as will future upgrades. But additional features will require a monthly or annual subscription fee. That means Microsoft must convince users that subscriptions provide good value.
It seems risky, but Microsoft has a lot of options to make a Windows subscription compelling.