Yesterday I issued a 'BOT Short' signal.  If yesterday was a 'probe' short then today does not seem to be providing the confirmation I was looking for.  There is always the risk that we are in a running correction and that we will blast higher Monday as seems to be typically the case in this market.  However I will hold on through Monday and see if Monday can provide some real confirmation.  I did add to my short position by getting more iPath S&P 500 VIX Short-Term Futures ETN (NYSE:VXX) November 19 Calls.  The (NYSE:VXX) looks so extended to the downside that it looks ripe for an upside launch.  Seems like a good risk reward.  Actually the (NYSE:VXX) outperformed most other leveraged ETFs during the April 2010 to Early May 2010 period.  The (NYSE:VXX) was up almost 100%.
The average volume analysis on the SPDR S&P 500 ETF (NYSE:SPY) I did the other night at this point has me very concerned.  It shows that despite the greatest upside rally in over 72 years (as the popular headline is being thrown around), that 'greatest' rally was on very LOUSY volume and in a consistent pattern of 13% less and then 8% less volume on previous rally legs.  Of course you will not hear that headline anywhere else in the business media although maybe I ought to send the link above to Bloomberg or a few other business media outlets.
The other thing that has me very concerned was yesterdays doji in the indices.  It looks like a 'Rickshaw Man' doji candlestick.  I just looked in Steve Nison's candlestick book and he indicates that the Rickshaw Man doji reveral candlestick (or long legged doji) has the potential to be especially bearish in terms of turning points near tops.
The tricky aspect to these dojis is that one does not necessarily always get immediate follow through to the downside or upside.  The market can drift around for a few days and then start to head down after that making it seem at first like the signal failed.  But I think this signal is going to succeed.
I also find it interesting that the current perceived momentum shift in the market from up to down now is occurring at almost the exact same time frame calendar wise as that final 'rally of hope' during late September 1987 (see chart below).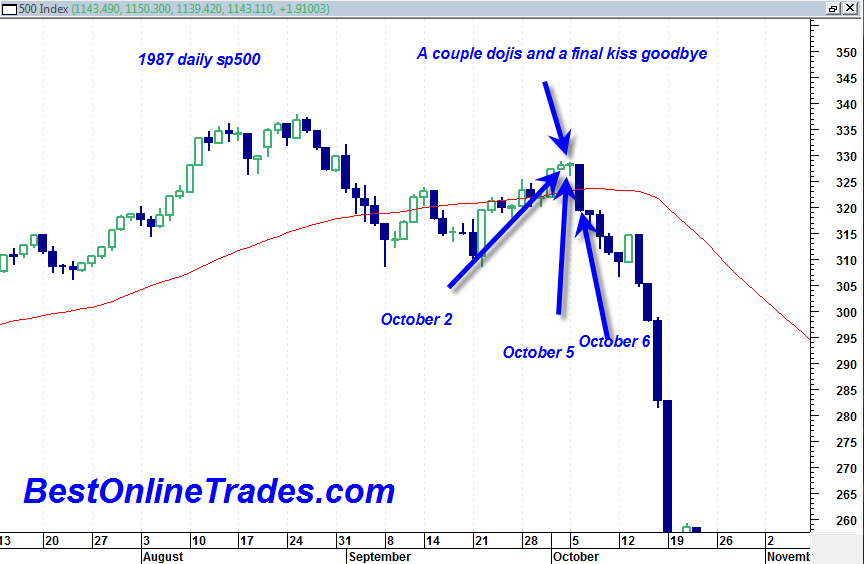 Am I too bearish now?  I could be, but the volume analysis and that Rickshaw Man doji is really quite concerning to me right now. 
Still, I thought that today would see some immediate follow through weakness down, but it did not happen.  The volume today in the (NYSE:SPY) is business as usual (light and lame).
Obviously if we gap and go higher Monday in the AM, I will once again have to cancel out this BOT short signal.  But I am still holding onto the possibility that we are on a 'delayed short signal' with the market just drifting for a few days before it gives up.  We really ought to have better confirmation by Monday in the AM. . .
Written By Thomas Carreno From Best Online Trades
BestOnlineTrades covers many different aspects of trading, from commodities to stocks, from indices to ETF's.
Want More Great Investing Ideas?