Thomas Carreno:  The iShares Silver ETF (NYSE:SLV) continues to trade in a very strong manner.  The SLV ETF recently appears to have completed a classic Wyckoff retest on dramatically lower volume of the recent support range.  This is a very bullish sign and is not a time to think about shorting the SLV ETF in my opinion.
The recent retest of support was on 60% LESS volume and shows that the silver bears do not currently have the firing power to push this ETF down in magnitude.  The absolute worst time to short any security is on a dramatically low volume retest of a recent break out area.
I suspect we will see a further short squeeze in the days ahead that should put the SLV near the 40 range.  The silver ETF seems to be leading all markets higher.  It has gold and the stock market on a leash and may pull them higher the next couple of weeks.
Looking at the chart below one can clearly see that we recently did a retest of the important support range on 60% less volume.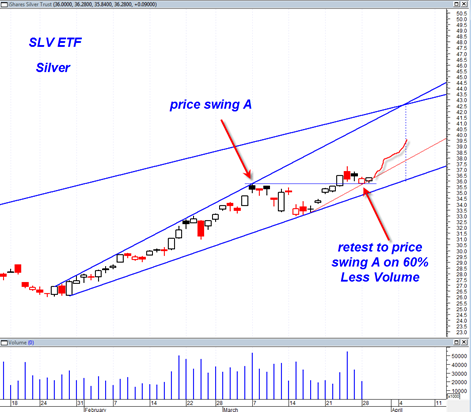 The dynamics of this chart suggest to me that a top call in the SLV ETF right now is incorrect.  Eventually there will be a top in silver, but likely from higher levels.
Other Related Silver ETFS:  Sprott Physical Silver Trust (NYSE:PSLV), ProShares Ultra Silver (NYSE:AGQ), ETFS Physical Silver Shares (NYSE:SIVR), PowerShares DB Silver (NYSE:DBS), ProShares UltraShort Silver (NYSE:ZSL), UBS E-TRACS CMCI Silver TR ETN (NYSE:USV), Global X Silver Miners ETF (NYSE:SIL).
Written By Thomas Carreno From Best Online Trades 
I started 
Best Online Trades
because I really enjoy trading and I also enjoy writing about trading.  Writing about trading or trading strategies helps transfer thoughts that would otherwise stay in 'theory' and helps move them to more concrete form for me. And hopefully along the way you will pick up something useful as well. 
BestOnlineTrades
covers many different aspects of trading, from commodities to stocks, from indices to ETF's.
Want More Great Investing Ideas?