cut back on production. That would decrease the supply of oil produced, eventually driving prices higher again.
Pickens said the number of rigs drilling for oil in the U.S. declined at the second biggest weekly rate in more than 24 years.
If he's right, and oil bounces back to levels last seen just two months ago, many small and mid-cap energy stocks are in position to double or triple, by returning to levels traded when oil was last $80. Of course, first oil needs to bottom. For those looking for reasons to believe a bottom is here for oil, at the close today, crude traded into rising 16-year trendline support.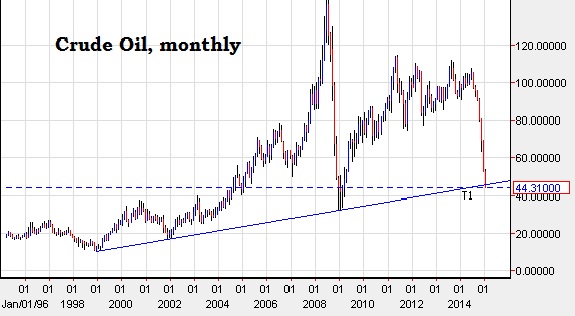 This trend started in December of 1998 and touched in late 2001, and again in late 2008 — each time bouncing aggressively. From those dates, within twelve months oil was 160% higher, 100% higher and 146% higher, respectively.
Through our analysis, we've identified the following five stocks that could double or triple if oil prices go back to $80.
1) Oasis Petroleum (NYSE:OAS)- Billionaire hedge fund manager John Paulson owns nearly 10% of this stock. The activist hedge fund SPO Advisory owns 8% and has been buying the stock on almost every dip. When oil was last $80, OAS was trading $30.74 or 130% higher than current levels.
2) SandRidge Energy (NYSE:SD)- Billionaire hedge fund managers, Leon Cooperman and Prem Watsa own almost 20% of SandRidge. This stock traded above $4 last November, when oil was $80. That's 185% higher than its current share price today.
3) Gran Tierra Energy (NYSE:GTE)- This might be the cheapest energy stock on the planet. The company has zero debt, and $1.30 in cash per share, more than half of its current share price of $2.26. With this much cash, you are getting the company's oil and natural gas assets for a song. When oil was last $80, GTE was trading at $4.64 or 110% higher than current levels.
4) Energy XXI LTD. (NYSE:EXXI) – If oil goes back to $80 a barrel, EXXI should be worth almost $8 a share. That's nearly a triple from its current price of $2.80. Energy XXI sold for as much as $24 a share just 7 months ago.
5) Breitburn Energy Partners (NYSE:BBEP) – Breitburn should be a near triple if oil goes back to $80. The stock already popped today by 22%. BBEP currently sold for $17.56 last November, when oil prices were at $80 a barrel. Breitburn pays an incredible $1 per share dividend, giving the stock a current dividend yield of 15%.
Brought To You Courtesy Of William Meade From The Billionaires Portfolio
The insider behind the Billionaire's Portfolio is William Meade. William started his career with Wood Asset Management. Wood Asset Management was a $1.5 billion dollar institutional asset management firm and hedge fund, founded by Gary Wood, a former Goldman Sachs Partner and Harvard MBA. At Wood, William helped manage equity and fixed income portfolios for major university endowments, Fortune 500 pension funds and super high net worth clients (including 2 billionaire families).
Next, William was Director of ETF and Mutual Fund Research for Zacks Investment Research in Chicago. At Zacks, he worked with the founder Len Zacks, a PHD from MIT, in developing and maintaining a proprietary model that ranked over 20,000 ETFs and mutual funds. This model was viewed and used by over 150,000 people monthly, and was published in US News and World Report, and featured on CNN, Yahoo Finance, and Fortune.com.
William received a Masters in Economics from Johns Hopkins University, including PhD level coursework in International Economics. At Johns Hopkins, Mr. Meade was taught by Economists from The Federal Reserve and Department of Treasury. While at Johns Hopkins Mr.Meade consulted for a top hedge fund in Washington DC.