This followed rather dire warnings by both us earlier in the year.
… and Goldman more recently, that US oil storage is also rapidly approaching it own tipping point, something which the oil market has finally priced in with the collapse in crude to levels not seen since the financial crisis.
Fast forward to today, when none other than the PIRA Energy Group warned that the oil market is set to exhaust onshore crude storage some time in 1Q 2016, which considering there are just 23 days left in 2015, could be as soon as 4 weeks from today, and judging by the way oil is trading, that's increasingly what the market (if not so much Andy Hall) thinks.
PIRA adds that global oil stocks seen 500m bbl above normal by end-2015, and that Brent will "continue to struggle" because of surplus.
To be sure, if land storage is exhausted, even Goldman's rather dire prediction of $20 oil may prove optimistic.
But while ongoing soaring supply in the face of sliding demand is terrible news for the price of oil, it is great news of oil tankers, which courtesy of contango have become the equivalent of offshore storage platforms in which to store oil until better times emerge. Only… the contango trade is no longer working for one simple reason – oil tanker rates have gone stratospheric to the point where it is no longer economic to store oil in ships.
According to Bloomberg, oil tanker rates soared to the highest in seven years amid an acceleration in the number of bookings and signs that the ships are being delayed when unloading due to a lack of space in on-land storage tanks. This means that day rates for 2 million-barrel carrying ships sailing to Japan from Saudi Arabia, the industry's benchmark route, surged to $111,359, the highest since July 2008, according to the Baltic Exchange in London.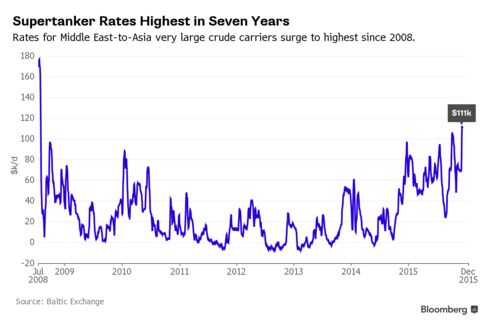 This chart was as of last week: in the aftermath of the latest epic fiasco from OPEC, which has sent the price of oil even lower, we are confident that supertanker rates are set to surge even higher, especially as more and more land-based oil depositories fill up.
As Bloomberg adds, oil tankers are increasingly having to store cargoes while they wait for space to clear in on-land storage tanks that are too full, according to Erik Nikolai Stavseth, a shipping analyst at Arctic Securities ASA in Oslo. Vessels able to hold more than 100 million barrels of crude were waiting days or weeks at a time off the coasts of oil consuming countries in mid-November, vessel-tracking data compiled by Bloomberg show.
We wrote about this a month ago when we showed an unprecedented build up of more than 39 crude tankers w/ combined cargo capacity of 28.4 million bbls anchored near Galveston (Galveston is area where tankers can anchor before taking cargoes to refineries at Houston and other nearby plants), according to vessel tracking data showing that vessels now had to wait an average of 5 days, compared with 3 days May.
We are confident that the build up of tankers off the Texas coast will only get greater with every passing day.
"We've seen the number of vessels for storage move higher," Stavseth said. "There have been several reports of congestion in Chinese ports" while the flow of cargoes being transported toward the U.S. Gulf is also rising, employing a growing number of vessels, he said.
Some more details on route costs from Bloomberg:
Rates measured in the industry's Worldscale pricing system jumped 6.7 percent to 91.18 points on the Saudi to Japan route, the highest since at least the start of the year, according to the Baltic Exchange. The Worldscale mechanism helps oil companies calculate and negotiate dollars-per-ton freight costs on thousands of different trade routes.
Meanwhile, the trend continues and the number of available ships is shrinking as a result of extra cargoes.
As a result of the soaring rates, chartered contango trades have become unprofitable virtually across the board.
Furthermore, there will be 12 percent more tankers than cargoes in the next four weeks for loading in the Persian Gulf, according to a Dec. 1 Bloomberg survey of owners and brokers involved in the trade. That's the smallest excess in seven weeks.
Part of the rates surge is because of increased shipments going into winter, said Per Mansson, a shipbroker at Affinity Shipping LLP in London, who's worked in the industry for more than four decades.

"When the market has been high and there is a thin balance of vessels available, even a small spark in activity can lead to a spike in rates," said Eirik Haavaldsen, an analyst at Pareto Securities ASA in Oslo.
And while we are confident that tanker operators around the globe will rush to put as many tankers as are available into operation imminently to capture the soaring rates, this may not be sufficient to normalize the situation: after all if OPEC has indeed entered full meltdown mode, and the cartel has devolved into an "every insolvent petroproducer for himself" mode, not even a surge in tanker supply may be enough to offset the more than equivalent increase in oil production.
Which means that only one potential "re-normalizing" near-term catalyst exists: if central banks, or China, openly announce they will monetize oil, although unlike digital fiat 1s and 0s, it is not exactly clear just where this monetized physical oil will be stored, as the world is about to hit its global oil infrastructure "tipping point."
This article is brought to you courtesy of Tyler Durden From Zero Hedge.