Kyle Anderson: The pharmaceutical industry saw record-setting M&A activity in the first quarter of 2015.
According to PricewaterhouseCoopers, the "life sciences" field had 35 deals in Q1 2015. The life sciences industry is made up of pharmaceuticals, medical devices, biotech, diagnostics, and contract-research organizations.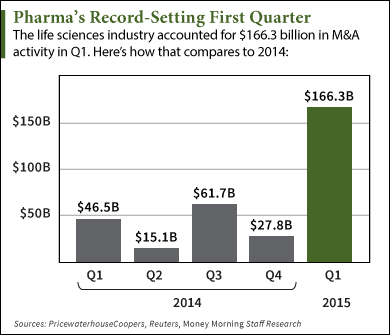 Those deals totaled $166.3 billion. That's more money than was spent during all of 2014, which saw M&A activity total $150.1 billion. In Q1 2014, just $46.5 billion was spent.
Some major deals have contributed to that record-breaking total. In March, AbbVie Inc. (NYSE: ABBV) announced the purchase of Pharmacyclics Inc.(Nasdaq: PCYC) for $21 billion. Shire Plc. (Nasdaq: SHPG) purchased NPS Pharmaceuticals Inc. (Nasdaq: NPSP) for $5.1 billion.
And the pharmaceutical industry's big spending will continue…
Top pharma companies go on the hunt for smaller firms when their older patents are about to expire. Instead of developing their own drugs – which can take up to 10 years and $1 billion – they buy other companies with new drugs.
Plus, the pharma industry is rich.
"Big pharmaceutical companies are sitting on phenomenal piles of cash," Barclays' Head of European Healthcare Investment Banking Will Thompson told Bloomberg in April. "They will be forced to look at M&A amid the current biotech exuberance."
Money Morning's Defense and Tech Specialist Michael Robinson has been recommending a way to profit from the M&A boom throughout 2015.
He told readers in February the pharmaceutical industry M&A market would continue to soar. Wall Street pundits claimed the market was dead – but Robinson knew that wasn't the case.
His pick to profit from this trend has already climbed 12% in 2015, compared to just 2% for the Dow Jones. Here's why it will continue bringing profits in 2015…
Our Pharmaceutical Industry Profit Play
Robinson recommends the SPDR S&P Pharmaceuticals (NYSEARCA:XPH) ETF. It's composed of big pharmaceutical companies and several aggressive small caps.
"XPH is not an M&A fund – but it's a great way to take advantage of the trend," Robinson said. "This ETF focuses on the industry's bread and butter: high earnings."
The ETF has 39 holdings, and the average market cap is $37 billion.