That's yet another indication that platinum prices have much higher to go. And with those prices edging higher on the squeeze, we have a great chance to swoop in and profit….
Here's What to Do
To benefit from this trend, consider the ETFS Physical Platinum Shares ETF (NYSE:PPLT). It does a good job of tracking the price of physical platinum prices, and is physically backed by allocated metal.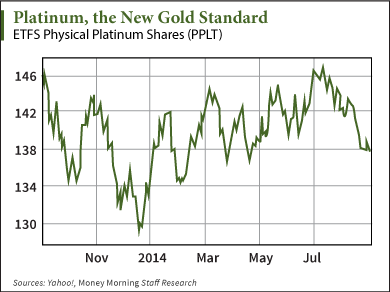 As you can see from its price chart, platinum is in a classic upward trend channel that's establishing higher lows and higher highs.
For an even better pick, have a look at Platinum Group Metals Limited (USA) (NYSE:PLG). The company is currently building the WBJV Project 1 Platinum Mine in the heart of world platinum production: South Africa's Bushveld Complex.
PLG will start producing next year, and will ramp up to 275,000 ounces/yr. from its high grade/near surface deposit. The company has a resource of 29 million equivalent ounces, and major shareholders include Blackrock, Inc. (NYSE:BLK), Liberty Mutual, and Franklin Templeton.
The bottom line is demand for platinum is heating up while overall supply is forecast to be decreasing.
The platinum market is expected to witness its largest deficit ever this year and perhaps for several years to come. All while two of the world's largest producing nations, South Africa and Russia, are contending with serious ongoing supply challenges.
Which all adds up for platinum as an investment pick with great profit potential and the "legs" to carry it for an extended profit run.
Written By Peter Krauth From Money Morning
We're in the midst of the greatest investing boom in almost 60 years. And rest assured – this boom is not about to end anytime soon. You see, the flattening of the world continues to spawn new markets worth trillions of dollars; new customers that measure in the billions; an insatiable global demand for basic resources that's growing exponentially; and a technological revolution even in the most distant markets on the planet.And Money Morning is here to help investors profit handsomely on this seismic shift in the global economy. In fact, we believe this is where the only real fortunes will be made in the months and years to come.