Shares of Plug Power Inc (NASDAQ:PLUG) have surged a stratospheric 1,258% in the last 12 months, and are up a meteoric 260% year to date. Gains logged so far in 2014 mark the best performance for the Latham, N.Y.-based company in its 11-year history.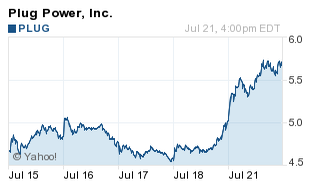 PLUG shares were on a tear Monday, hitting their highest level in some three months intraday.
Shares of the alternative, renewable energy company surged 14% to $5.74 on heavy volume. Shortly after 1.p.m., volume was a brisk 37.60 million shares, comfortably more than double the stock's average daily volume of 13.75 million shares.
The stock is up 18% month to date. That puts July on pace to be PLUG's best performing month since March when shares rose a blistering 50%.
After taking a breather from earlier this year, when shares peaked at $11.72 (its 52-week low is $0.36), PLUG shares are again showing some serious signs of life.
Here's what has happened to this popular penny stock…
PLUG Shares Power On
Last week, PLUG shares climbed nearly 10% after a couple of analysts showed PLUG some love.
Roth Capital shared its optimistic outlook that the company is handily on track to achieve its revenue guidance and booking targets for fiscal year 2014, ending Dec. 31. Roth's positivity came after three days of meetings with PLUG's management team.
PLUG anticipates revenue will reach $75 million by year's end thanks to a burst of new orders and overseas expansion.
Further fueling activity in PLUG, and fuel cell stocks overall, were comments late last week from Japanese Prime Minister Shinzo Abe.
Japan's leader told the press he will give about $20,000 (2 million yen) in subsidy on every fuel cell vehicle bought in the country.
The comment comes as Asian carmakers, including Toyota, Honda, and Hyundai Corp, collaborate on ramping up the introduction of next generation fuel-cell powered vehicles.
Abe's growth tactic encourages the use of hydrogen energy and fuel cell cars, which use hydrogen as fuel and run on electricity from cells that combine hydrogen with oxygen and emit only water vapor and heat.
"This is the car of a new era because it doesn't emit any carbon dioxide and it's environmentally friendly," Abe told reporters. "The government needs to support this."
China also announced last week it would make 30% of all its new government vehicles electric.
The news opens up a plethora of opportunities in a new and potentially extremely lucrative market for PLUG. It also sparked even more excitement in the emerging fuel cell space.
Additionally goosing PLUG shares last week, and igniting more enthusiasm in the sector, was FBR Capital Markets.
The firm initiated coverage of PLUG with an "Outperform." FBR cited fresh U.S. orders, eventual expansion opportunities in Europe, and a breakthrough in the hydrogen delivery system solution for the rosy rating.
Roth set a 12-month price target of $8 for PLUG shares.
Charles Payne, a FOX Business News contributor, weighed in on Roth's rating and price target. Payne, a watchful fan of PLUG, cautioned that PLUG shares are volatile and momentum driven. But he was quick to add he believes an $8 price is doable "sooner rather than later."
Shares have been on a roller-coaster ride since January, when PLUG inked a deal with FedEx Corp. (NYSE: FDX) to develop hydrogen fuel cell extenders for 20 FedEx electric trucks. The news sent shares surging 68% to a 52-week high of $4.90. It also caught our eyes here at Money Morning, landing PLUG on our Penny Stocks Picks: 5 Under $5 piece.
PLUG shares were juiced again in late February when it received a sizable order from Wal-Mart Inc. (NYSE: WMT) to deliver 1,738 fuel cells over the next two years for WMT's warehouse forklifts.
In addition to providing hydrogen fuel cell power packs for forklifts and other warehouse equipment, as well as providing the hydrogen needed, PLUG is looking to expand into other areas such as airport baggage handling equipment.
The recent news and new coverage has benefited other fuel cell companies. Ballad Power Systems Inc. (Nasdaq: BLDP) and FuelCell Energy Inc. (Nasdaq: FCEL) jumped 7.2% and 5.67% respectively Monday afternoon.
Written By Diane Alter From Money Morning
We're in the midst of the greatest investing boom in almost 60 years. And rest assured – this boom is not about to end anytime soon. You see, the flattening of the world continues to spawn new markets worth trillions of dollars; new customers that measure in the billions; an insatiable global demand for basic resources that's growing exponentially; and a technological revolution even in the most distant markets on the planet.And Money Morning is here to help investors profit handsomely on this seismic shift in the global economy. In fact, we believe this is where the only real fortunes will be made in the months and years to come.