Jeb Handwerger:  Over three years ago on April 28, 2011 at a time when investors were piling with two fists into gold and silver ETFs, I wrote on this popular article published on Seeking Alpha, "The virtues of gold (NYSEARCA:GLD) and silver (NYSEARCA:SLV) are being addressed far and wide. My readers know the steady drumbeat of praise that is reaching a crescendo for the white metal scares the hell out of me. A parabolic rise has formed in silver and gold… Please note that at these times of extreme optimism volatile pullbacks become more prevalent. Parabolic rises must be approached with caution." At that time all over the mainstream media huge gold predictions of $5000 were forecasted as Central Banks became net buyers of gold for the first time in many years.
Three years ago in early 2011, I cautioned my readers to be careful to chase gold and silver higher as it was moving parabolic. Now it is oversold and ignored.
Be careful now of parabolic rises in the S&P500 (SPY), Long term US Treasuries (TLT) and US dollar (UUP). Investors are scared and looking for liquidity.
Silver (SLV) is trading below $17, Gold (GLD) is testing major support at $1200. The GDXJ has been outperforming and has not violated 2013 lows.
If $1180 does not hold, gold (GLD) may test lower prices near $1050 as that is the approximate 50% retracement of the 2001-2011 bull market.
Some smart traders are expecting a triple bottom at $1180 on gold with a bounce off current oversold levels with a small pullback in December for tax loss selling.
Junior Gold Mining ETF (GDXJ) Makes Bullish Reversal at May Lows around $33.
The Chinese and Russians were some of the largest acquirers of physical gold. Also large hedge funds, some managed by industry giants such as Paulson, Soros, Rogers and Einhorn, began buying ETFs and junior miners. This led to a parabolic and overbought move in precious metals, which I cautioned my readers about in the referenced article above. It should be noted that a few days after this article was published, silver topped at $50 and gold rolled over a few months later at $1900.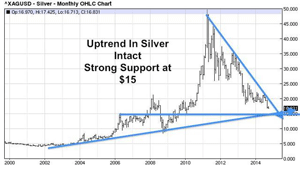 Now silver is trading below $17 at prices not seen in years below its 2010 breakout price. Silver does look like it is approaching a major support uptrend at the $15 level. If $1180 does not hold, gold may test lower prices near $1050 as that is the approximate 50% retracement of the move from $300 in 2001 to $1900 in 2011.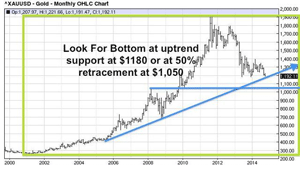 It is evident that both precious metals are in a long-term secular uptrend, yet the mainstream is completely ignoring gold and silver, the exact opposite of what was happening in 2011. Now we hear the steady drumbeat of the shorts who say deflation is here to stay with low interest rates. They say stick to financial assets like the dollar and large caps which brings music to my contrarian ears. Low interest rates and low inflation do not last forever. They fuel asset bubbles which burst.