In particular, legendary billionaire George Soros made a huge bet against the market. He increased his short position on the Standard & Poor's 500 by a startling 605%.
The 9.69 million new shares of SPDR S&P 500 ETF Trust (NYSE Arca: SPY) put options gave Soros a total of 11.29 million shares and made it the biggest holding in his portfolio.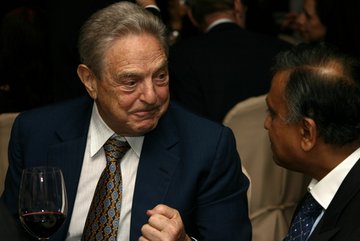 Soros also added significantly to several gold positions, a "safe haven" move that's typically made when investors suspect a stock market crash is on the horizon.
And Soros wasn't the only hedge fund manager making defensive moves.
Several, such as Carl Icahn, increased their holdings in energy stocks, and in particular energy stocks that pay a healthy dividend. That's also a type of hedge against a stock market crash.
Others have been snapping up 10-year Treasurys and buying more put options than usual.
"You definitely are seeing managers reduce risk levels," Robert Duggan, a managing director at Skybridge Capital, told The Wall Street Journal. "'Cautious' or 'more defensive' are clearly things you hear when you speak with managers."
And yet these hedge fund managers don't seem to be bailing on stocks altogether. Some even increased their long positions.
Soros, for instance – despite buying all those SPY put options – made big additions to several of his long tech positions, including approximately 1.2 million shares of Apple Inc. (Nasdaq: AAPL), 1.79 million shares of Facebook Inc. (Nasdaq: FB), 2.4 million shares of Intel Corp. (Nasdaq: INTC), and 1.8 million shares of Microsoft Corp. (Nasdaq: MSFT).
That certainly doesn't look like a hedge fund manager planning for a stock market crash – but if you dig a little deeper it becomes clear exactly what Soros and his fellow hedge fund managers are up to – and it makes perfect sense.
These Moves Show How to Survive a Stock Market Crash
The apparent contradiction really isn't that much of a contradiction – it's Hedge Fund Investing 101. And right now it's the kind of smart move all investors need to be watching.
This is about preparing for a short-term pullback while maintaining a long-term strategy.
Hedge fund managers sense a stock market correction may be near (we'll get to that in a second), but recognize that the market is in the midst of a long-term push to higher levels.
"This is just the first leg of a generational bull market," said Money Morning Capital Wave Strategist Shah Gilani – a former hedge fund manager himself.
A generational market, Gilani explained, is a long-term market cycle that has averaged about 25 years in duration over the past 112 years.
But generational bull markets are subject to corrections, temporary bear markets, and even stock market crashes along the way.
Hedge fund managers are preparing for a stock market downturn in the middle of this generational bull market because of the increased likelihood of a black swan – an unpredictable event that can shock the markets.
Many of these black swans lurk in the Middle East, from the Syrian civil war to instability in Iraq and Egypt to the unpredictability of the Iranian regime.
But Europe also has its share of market-threatening problems as it tries to cope with the hangover from the Eurozone debt crisis.
And then there's China. Some economists believe China's banking system is on the verge of a major crisis, which would surely rock world markets. And in addition to saber-rattling in the South China Seas, China has also been increasingly belligerent toward foreign-based businesses such as Microsoft, Chrysler, and AstraZeneca Plc. (NYSE ADR: AZN),
Buying S&P 500 put options right now is a cheap and easy way for hedge fund managers like Soros to protect themselves against the possibility one of these black swans will trigger a stock market crash – and to make a quick profit should anything actually happen.
You see, put options are cheaper when volatility is low, as has been the case for months.
"[Soros] is just taking advantage of a low-cost insurance environment," Brian Wesbury, chief economist at First Trust Advisors, said last month on FOX Business' "Opening Bell" program.
Prepare for a Stock Market Crash Like George Soros
While it's impossible to know if a black swan event will cause a stock market crash in the next few months, buying a little insurance, George Soros-style, is a sound strategy.
Retail investors could follow Soros' lead and buy S&P put options.
Or they could buy some shares of "inverse funds" that rise when everything else falls. That would include, for example, The Rydex Series Trust Inverse S&P 500 Strategy Fund (MUTF: RYURX) and the ProShares Short QQQ ETF (NYSE Arca: PSQ).
Apart from that, investors should prepare for a black swan downturn by tightening up their trailing stops and making sure they have a list of stocks they'd like to own ready to go. Such stocks will get much cheaper after a stock market crash, and that's the best time to buy them.
But one reaction investors absolutely must avoid in the event of any stock market crash is to run for the exits and never come back.
"I'm a strong believer that you have to be in it to win it," Gilani said. "You need to stay in because after that crash there's nowhere to go but up."
Written By David Zeiler From Money Morning
We're in the midst of the greatest investing boom in almost 60  years.  And rest assured – this boom is not about to end anytime soon.  You see, the flattening of the world continues to spawn new markets  worth trillions of dollars new customers that measure in the billions;  an insatiable global demand for basic resources that's growing   exponentially; and a technological revolution even in the most distant  markets on the planet.  And Money Morning is here to help investors profit handsomely on this seismic shift in the global economy. In fact,  we believe this is where the only real fortunes will be made in the  months and years to come.