This new Valeant acquisition gives the $83 billion pharmaceutical company access to Sprout's new drug Addyi. It's the first drug designed to boost a woman's libido and was just approved by the FDA on Tuesday.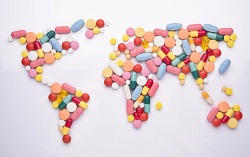 The Valeant deal is also big news for investors who followed our pharma M&A profit pick earlier this year. It's now up 20% in the past year – more on that later…
The Valeant acquisition of Sprout should be finalized in the third quarter. Valeant will be paying an upfront cash payment of $500 million followed by another payment in early 2016.
As the first drug designed to treat low libido in women, Addyi will have no competition when it hits the market. That's a huge win for Valeant, which is expecting revenue between $10.7 billion and $11.1 billion for the full-year 2015.
In the last four quarters, VRX has beaten earnings estimates by an average of 12.5%. Year to date, VRX stock is up nearly 69%. That compares to a loss of 4% for the Dow Jones in the same time.
Valeant's acquisition of Sprout is just the latest move in the company's recent spending spree. In 2015, Valeant spent $10.1 billion on the pharmaceutical company Salix. Before that, it bought Bausch & Lomb in 2013 for $8.7 billion. It announced the $2.6 billion acquisition of Medicis in 2012.
In 2015, pharmaceutical companies have already spent $270.9 billion on mergers and acquisitions. According to Dealogic, that's almost near 2014's full-year total of $277.4 billion.
Money Morning Defense & Tech Specialist Michael A. Robinson has been following this pharma M&A trend since 2014. He knew the world's top pharmaceutical companies would continue their buying binge, and he recommended an investment to play that wave.
"M&A deals will remain a big driver for the whole healthcare industry," Robinson said in February. "The pickup in M&A activity will translate into healthy bonuses for bankers and lawyers, certainly, but it will also continue to accelerate stocks in the biotech and pharmaceutical sectors way past the overall market."
Robinson's pick has already climbed 13% this year and has plenty of room to run…
Profit from Today's Valeant Acquisition with This Pharma ETF
The investment Robinson recommends is the SPDR S&P Pharmaceuticals (NYSEARCA:XPH) ETF. It's composed of some of the top pharmaceutical companies on the market and several aggressive small caps.
"XPH is not an M&A fund – but it's a great way to take advantage of the trend," Robinson said. "This ETF focuses on the industry's bread and butter: high earnings."
"And many companies in the fund's portfolio will likely end up growing through mergers. Or they could become targets themselves."
The ETF has 41 holdings with an average market cap of $37.5 billion. Its top three holdings are Depomed Inc. (Nasdaq: DEPO), Cempra Inc. (Nasdaq: CEMP), and Catalent Inc. (NYSE:CTLT). Those three stocks are up 89.8%, 56.4%, and 19.5% in 2015, respectively.
In the last 12 months, XPH has climbed 21%. The Dow Jones and S&P 500 are up just 0.9% and 3.4% in the same time.
"The beauty of a play like this one is that rather than try to pick a single winner, we get the benefit of the entire sector's operations," Robinson said. "That makes XPH an excellent foundational investment to pave your road to wealth."
By investing in an ETF, you also mitigate the risk of picking just one of the top pharmaceutical companies on the market.
The Bottom Line: The $1 billion Valeant acquisition of Sprout today will bring the revolutionary drug Addyi into Valeant's product portfolio.
The merger underscores the profit opportunity we've been detailing all year at Money Morning The SPDR S&P Pharmaceuticals ETF is one of the best ways to profit from the world's top pharmaceutical companies and their massive deals.
The ETF is up 21% in the last 12 months with room to run.
Brought To You Courtesy of Kyle Anderson
We're in the midst of the greatest investing boom in almost 60 years. And rest assured – this boom is not about to end anytime soon. You see, the flattening of the world continues to spawn new markets worth trillions of dollars;new customers that measure in the billions; an insatiable global demand for basic resources that's growing exponentially; and a technological revolution even in the most distant markets on the planet. And Money Morning is here to help investors profit handsomely on this seismic shift in the global economy. In fact, we believe this is where the only real fortunes will be made in the months and years to come.