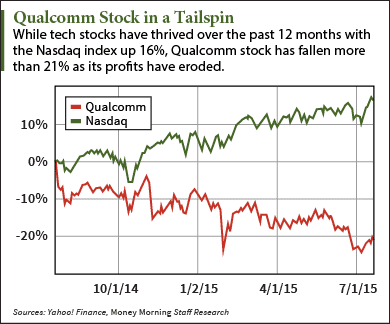 And the most dramatic is the consideration of splitting the chip making and patent licensing units into two separate companies.
A Qualcomm Inc. (NASDAQ:QCOM) breakup was first suggested in April by activist investor Jana Partners. Jana has a stake of about $2 billion in the San Diego, Calif.-based company.
Back then, management resisted. CEO Steve Mollenkopf said the two units supported each other in important ways.
But a sour Qualcomm Q2 earnings report on Wednesday coincided with an announcement of a "strategic realignment plan," which includes a months-long review of whether a breakup makes sense.
No doubt the weak earnings played a big role in changing management's position.
Awful Earnings Punish Qualcomm Stock Price
QCOM reported that its profits had plummeted 47% from the same period a year ago, with earnings per share falling from $1.31 to $0.73. Revenue was down 14% from $6.8 billion to $5.8 billion.
That sent the QCOM stock price down 1.8% in after-hours trading Wednesday. The carnage continued on Thursday, with Qualcomm stock shedding 4% on the day to close at $61.34.
And this isn't a temporary bump in the road. Profits also shrank 46% in the previous quarter. Looking ahead, Qualcomm lowered guidance for revenue and EPS for both the current quarter and the full year. Most of the trouble is due to continuing pressure on the chip making business.
"We decided we were going to take a fresh look at the corporate structure of the company," Qualcomm President Derek Aberle told Reuters. "The environment is constantly changing so the analysis done earlier may not be valid anymore, so it's in that context that we're taking a look at it again now."
Other measures Qualcomm is taking at Jana's suggestion include slashing costs by $1.4 billion, partly by cutting 4,500 jobs (about 15% of its workforce), reaffirming its intent to return significant capital to shareholders, and reorganizing its board of directors.
Jana's position in April was that Qualcomm's chip making business essentially contributes no value to the Qualcomm stock price, even though the company is the world's largest maker of smartphone chips and the No. 3 chip maker overall.
But that sales success isn't quite what it seems…
How a Separation Creates More Value for QCOM Stock
You see, Qualcomm's chip division brings in about two-thirds of the company's revenue but just one-third of the profits. The patent licensing division is the opposite, bringing in the lion's share of QCOM's profits.
Because Qualcomm owns many patents required to build today's smartphones, it collects fees from just about every phone maker in the world. And those fees aren't fixed, but are calculated as a percentage of the cost of each phone. A lucrative business, indeed.
With the chip business dragging down the licensing business, Jana believes a Qualcomm breakup would unlock shareholder value.
And at least one study agrees.
In March, analysts at Arete Research Services LLP calculated that the chip business is worth about $74 billion, while the licensing business is worth about $87 billion. That adds up to $161 billion, far more than Qualcomm's current valuation of $101 billion.
A Qualcomm breakup makes sense for other reasons as well.
While Qualcomm collects royalties on its patent trove, it also uses those patents in its own chips. That often means paying QCOM twice – first for the chips and again to license the patent. This has long been a bone of contention with the company's customers.
And a Qualcomm breakup would reduce conflicts that can arise when licensing its patents to rival chip makers.
Aside from that, a split-up Qualcomm would allow each new business to better focus on their market.
For example, while the patent licensing side can generate tremendous profits, it's been dogged by antitrust lawsuits in the European Union, China, the United States, and South Korea. Separating the businesses would help make the licensing side less of a target.
The chip business looks like it would end up as the ugly stepsister here, but not necessarily.
Qualcomm Breakup Would Create a Stronger Chip Maker
A separate Qualcomm chip company could become an acquisition target in an industry experiencing a flurry of M&A activity. Just in 2015, we've seen NXP Semiconductors NV (Nasdaq:NXPI) buy Freescale Semiconductor Ltd. (NYSE:FSL), Avago Technologies Ltd. (Nasdaq: AVGO) buy Broadcom Corp. (Nasdaq: BRCM), and Intel Corp. (Nasdaq: INTC) buy Altera Corp. (Nasdaq:ALTR).
One possibility is that Intel would want to buy QCOM's chip division, even after swallowing Altera. And it makes sense, since Qualcomm is strong in mobile – an area where Intel has struggled.
Alternatively, Qualcomm could itself acquire a smaller chip maker such as Xilinx Inc. (Nasdaq: XLNX). Xilinx has a specialized technology called Field Programmable Gate Arrays, or FPGAs, used to customize data center offerings – an area where QCOM is weak.
The only other company with this expertise is Altera, now under Intel's roof. A Qualcomm- Xilinx combo would make a formidable rival to Intel.
So it's pretty clear that a Qualcomm breakup would benefit QCOM stock. Both companies would benefit.
And given the poor performance of Qualcomm stock over the past year, that has to sound good to QCOM shareholders.
The Bottom Line: Sinking profits have weakened Qualcomm stock and forced management to consider seriously breaking up the company. But it's actually a sound idea. Both the patent licensing side and the chip making side would be better off. And best of all, QCOM shareholders would benefit, too.
Written By David Zeiler From Money Morning
We're in the midst of the greatest investing boom in almost 60  years.  And rest assured – this boom is not about to end anytime soon.  You see, the flattening of the world continues to spawn new markets  worth trillions of dollars new customers that measure in the billions;  an insatiable global demand for basic resources that's growing   exponentially; and a technological revolution even in the most distant  markets on the planet.  And Money Morning is here to help investors profit handsomely on this seismic shift in the global economy. In fact,  we believe this is where the only real fortunes will be made in the  months and years to come.