When you look at the daily chart for Qualcomm (NASDAQ:QCOM), the first thing that stands out is the series of lower highs. In just the last six months alone we see four that stand out, and we could be seeing the fifth one developing right now.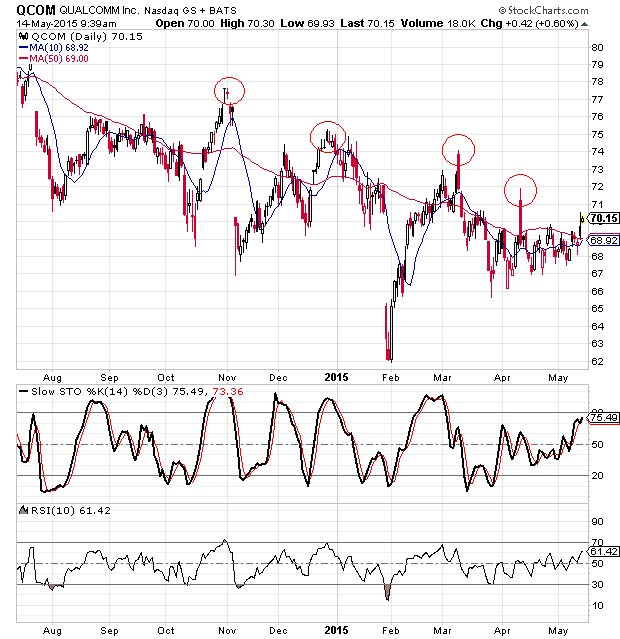 The highs don't necessarily connect very well to form a perfect trendline – at least not on the daily chart – but that doesn't mean you shouldn't pay attention to them. Too many times technical analysts miss things like the picture being painted on the daily chart, because there isn't a trendline that neatly connects the highs.
Looking at the weekly chart, we get a little better look at the downtrend, as there is a trendline that defines the downward move in the stock. It goes back to last summer and neatly connects the highs from the past 10 months. There is some room between the current price and the trendline, but not much.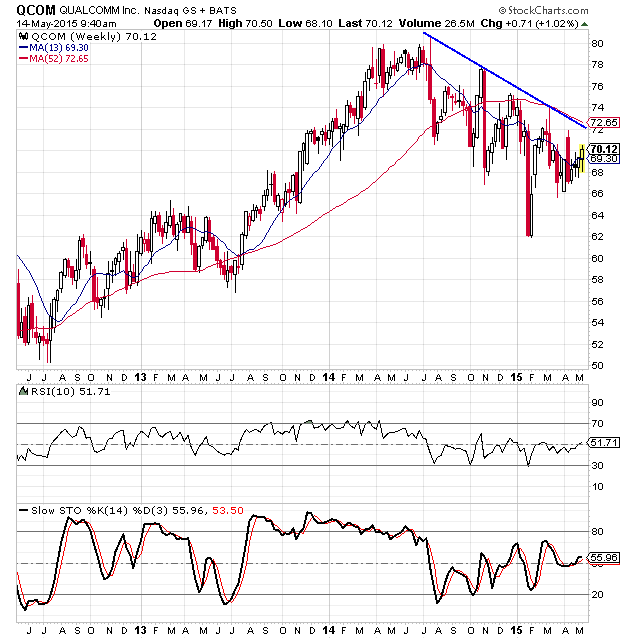 The other thing to take note of on the weekly chart is how the 52-week moving average is just slightly above the trendline that connects the highs. This gives the stock two layers of resistance it will have to overcome if it is to break the downtrend. Some stocks can move back and forth across their 52-week moving average with relative ease, but Qualcomm stock seems to find support or resistance from it.
The sentiment toward Qualcomm is relatively bullish. The short interest ratio stands at 1.70 presently. There are 22 "buy" ratings from analysts, 14 "hold" ratings and only two "sell" ratings.
Stocks that are in a downtrend and have a bullishly skewed sentiment view make ideal short selling candidates typically, especially when the stock is trending downward while the market is trending higher. Since the high that represents the first point on the trendline last July, Qualcomm stock is down 12.99%, while the S&P 500 has gained 5.8% during the same time period.
If you want to try to time it perfectly, you might wait a few more days to see if the stock gets up to the trendline. But in my experience it is very rare that you can time things perfectly.
Personally, I would look to sell the stock short above the $70 level and use the trendline and moving average to set my stop-loss point. I would set the stop just a few percentage points above the moving average. The reason comes from the weekly chart. As you can see, Qualcomm stock has been known to move slightly above the moving average before moving lower. In the case of 2012 and 2013, it dipped slightly below the moving average before moving higher.
As for a target, I can see the stock moving back down to the $62 level. You will then want to see how it reacts at that time.
This article is brought to you courtesy of Rick Pendergraft from Wyatt Research.