Rick Pendergraft: If you asked someone to describe what a downtrend in a stock looks like, the words "series of lower highs" are most likely going to be included in their description.
When you look at the daily chart for Qualcomm (NASDAQ:QCOM), the first thing that stands out is the series of lower highs. In just the last six months alone we see four that stand out, and we could be seeing the fifth one developing right now.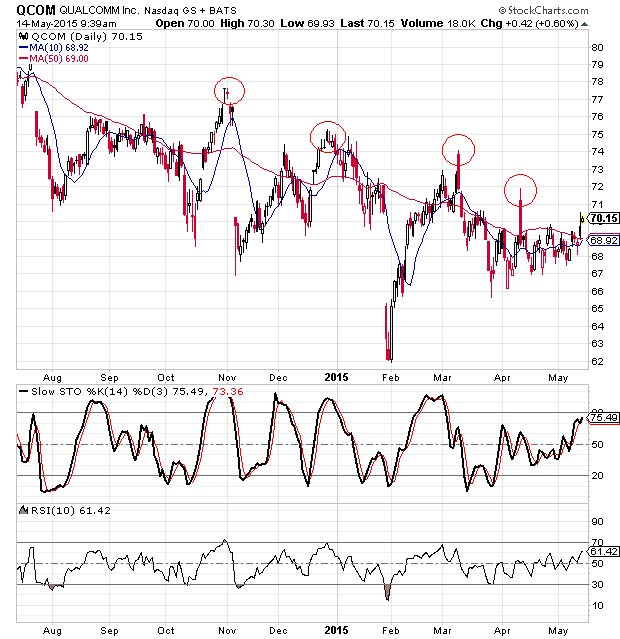 The highs don't necessarily connect very well to form a perfect trendline – at least not on the daily chart – but that doesn't mean you shouldn't pay attention to them. Too many times technical analysts miss things like the picture being painted on the daily chart, because there isn't a trendline that neatly connects the highs.
Looking at the weekly chart, we get a little better look at the downtrend, as there is a trendline that defines the downward move in the stock. It goes back to last summer and neatly connects the highs from the past 10 months. There is some room between the current price and the trendline, but not much.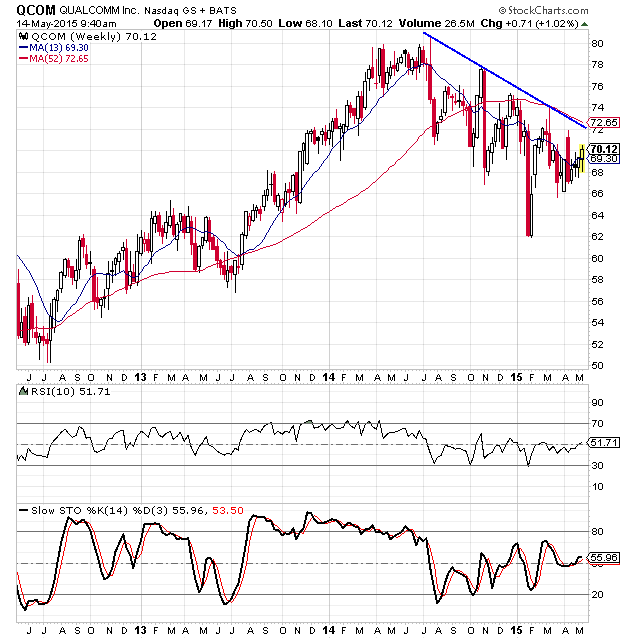 The other thing to take note of on the weekly chart is how the 52-week moving average is just slightly above the trendline that connects the highs. This gives the stock two layers of resistance it will have to overcome if it is to break the downtrend. Some stocks can move back and forth across their 52-week moving average with relative ease, but Qualcomm stock seems to find support or resistance from it.
Want More Great Investing Ideas?