Marshall Hargrave: There are a number of stocks that continue to return capital to shareholders by consistently upping their dividends.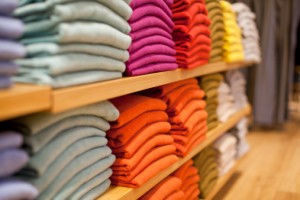 In fact, about 84% of the companies in the S&P 500 are paying dividends these days. Over the last 12 months, stocks in the S&P 500 have upped their dividend payments by 12% in aggregate.
So at a time when nearly every stock out there is offering some sort of income, it's hard to find those that will continue to reward shareholders on a consistent basis.
One apparel stock that's relatively overlooked by dividend investors is Ralph Lauren (NYSE: RL). The apparel maker and retailer is upping its quarterly dividend payment by over 10% this week to 50 cents a share. Shares trade ex-dividend on March 25.
But the stock has been hit hard year-to-date, down 28%. But in truth, it's been a tough go of it for a few major apparel makers and retailers. VF Corp (NYSE: VFC) shares are flat year-to-date and PVH Corp. (NYSE: PVH) is down 20%.
Ralph Lauren's 1.5% dividend yield doesn't appear to be much, especially when the S&P 500 average dividend yield is 1.9%.
Granted, VF Corp's dividend yield isn't much better, coming in at 1.7%.
Yet VF Corp is a dividend aristocrat, having upped its dividend for 42 straight years. And its total return (which includes stock price appreciation and dividend) is nearly fivefold the S&P 500 total return over the last decade.
VF Corp has accomplished this feat by building a strong and diversified brand portfolio. It has brands in the outdoor space, like The North Face and Timberland, as well as jeans and sportswear. Other various brands include Lee, Wrangler, Nautica and Eastpak.
VF Corp has had a great run, and while Ralph Lauren's return is impressive, it still has some catching up to do.
As I mentioned, Ralph Lauren is down big year-to-date, which comes after it posted weak third quarter fiscal 2015 results. And it lowered its full-year guidance. This was due to currency headwinds, but the core business still appears strong.
So there is an opportunity here?
The idea is that Ralph Lauren might eventually become a dividend powerhouse like that of VF Corp. And with its stock price trailing its major peers due to currency headwinds, it might be an attractive buying opportunity.
VF Corp's dividend payout ratio is 40%, while Ralph Lauren's is 25%. And while it has a fraction of VF Corp's consecutive years of dividend increases, Ralph Lauren does have a solid start with three years of dividend boosts.