Jim Bach:   Salesforce.com Inc. (NYSE:CRM) stock has been maintaining the gains it notched after takeover rumors in late April, even after those rumors have quieted substantially.
When the news broke that a big tech name was considering a purchase of the customer relationship management company, CRM stock soared 11.6% on the day.
It has retreated a bit, but CRM stock is still trading above $70. It's up about 23% on the year.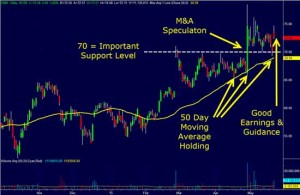 So where does it go from here – is it a good time to buy CRM stock?
Here's what investors need to know about investing in Salesforce stock today…
Is It Time to Buy CRM Stock?
There are a lot of reasons investors like Salesforce…
Salesforce is an impressive company. It was a first mover in cloud computing well before the rest of the tech industry even had a name for "cloud."
And not just that, it has been instrumental in expanding the way tech looks at cloud. The big tech players are still fighting over who can control the virtual data center infrastructure component of cloud, while Salesforce has been looking at cloud as a way to deliver much more sophisticated enterprise services over the platform.
CEO Marc Benioff may not be looking to make commercial spacecraft mainstream or replace the automotive industry with electric cars like Elon Musk, but he too has the extraordinarily ambitious goal of trying to replace all software with cloud services. He's dubbed this initiative the "End of Software."
Right now, CRM is a growth stock with a lot of momentum, and it has takeover value. The company continues to grow sales on a quarterly basis and is even managing to squeeze out profits despite high overhead and marketing costs.
All this has given investors a good case to buy the ride up, and CRM stock still seems to have some room to run.
There is, however, a couple of problems with CRM stock that investors need to be aware of.
One problem that Benioff has – not unlike Musk – is that all his lofty goals are met with skeptics.
With skeptics come short sellers – and a volatile CRM stock price.
"CRM is the opposite of a value play," Money Morning Technical Trading Specialist D.R. Barton said.
"People have been trying to short this stock for years because it's so overvalued."
That's why the CRM stock price could move dramatically in the short term.
Besides the short-term volatility problem is that despite all the excitement surrounding CRM this year, the best case for a buy are in technical indicators, not in fundamentals.
"Value players have to hold their nose and buy the momentum; momentum players will love the breakout. It's got good technicals from the chart," Barton said. "If you wanted to build a fundamental case for it, you'd have to do some digging."