Chris Ciovacco: It's easy and comfortable to join the bullish Treasury club and the mob currently bearish on the euro. Despite the hopes of the masses, it may be very uncomfortable to learn contrarian analysis, bailout progress in Europe and numerous technical setups tell us sometime in the next three weeks the euro could rally and Treasuries could drop. It is too early to go long the euro or short Treasuries, but it is not too early to be prepared for possible reversals in both markets. Obviously, if Treasuries fall and the euro rallies, that aligns with "risk on" conditions and would be favorable for both stocks and commodities.
If you own positions that are "about the most expensive ever" or have sentiment readings that "are about the most bearish ever", you probably have more risk in your portfolio than you care to admit. One-sided trades rarely prove to be profitable. In today's markets, we have two overcrowded trades that carry unfavorable risk-reward ratios for investors. From Bloomberg:
Derivatives show traders are about the most bearish ever on the euro versus the dollar over the next 12 months.
On July 6, we noted bullish divergences on the daily and weekly charts of the euro. We also highlighted bearish divergences on the weekly chart of the dollar in an article discussing the increasing likelihood of Fed action later this month, which would also be euro-supportive. Divergences show slowing momentum and often foreshadow market reversals. The weekly charts of the euro and dollar tell us while the euro may continue to fall, the downside potential relative to the upside risks (if you are short) are unfavorable. Divergences and the "most bearish ever" sentiment reading could be a harsh combination for euro shorts over the coming weeks.
When yields are at or near record lows, it is time to have a bond exit strategy in place. Treasury investors may be living on borrowed time. From Bloomberg:
By some measures Treasuries are about the most expensive levels ever. The term premium, a model created by economists at the Fed, touched negative 0.947 percent July 6, surpassing the most expensive level ever of negative 0.94 set on June 1. A negative reading indicates investors are willing to accept yields below what's considered fair value.
In the video below, we cover numerous forms of evidence that question the longevity of the risk-off trade, which includes being long bonds and short the euro. Weekly divergences in numerous markets tell us the odds are favorable the rally in risk assets will resume sometime in the next three weeks. Wave counts also point to a possible rally in stocks and sell-off in bonds. DeMark exhaustion counts leave the door open to additional gains in bonds and weakness in stocks, but the next moves could be followed be reversals.
After you click play, use the button in the lower-right corner of the video player to view in full-screen mode. Hit Esc to exit full-screen mode.


To illustrate the possible risk in one-sided trades, let's take a stroll down memory lane. On September 15, 2011 short interest in stocks hit the highest level since March 2009. It is safe to say September 2011 and March 2009 represent historical examples of one-sided trades and periods of extreme sentiment. How did the crowded bearish bets work out in 2009 and 2011? Not well, as shown below.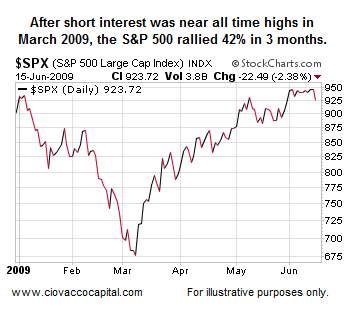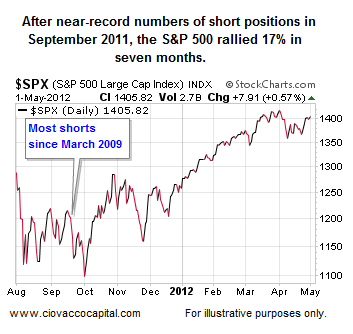 Is it possible the downward momentum in stocks, commodities, and the euro accelerates in the coming weeks and morphs into a 2008-like waterfall decline? Yes, it is possible. However, the observable evidence we currently have in hand does not place that scenario at the top of the probabilistic list. We can envision Treasuries marching higher and the euro lower for a time, but the comfort in being long Treasuries and short the euro may prove to be short-lived.
The risk-off crowd does have plenty of ammunition in the form of scary Spanish bond yields, slowing economic growth, and corporate earnings that may yield to an over-indebted economy. We respect and understand the scope of the long-term problems related to too much debt. We also believe any rally would have a tough time moving past 1,440 on the S&P 500, but significant intermediate-term opportunities often present themselves under conditions similar to what we have today. For example, the India ETF (NYSEARCA:PIN) rallied 28% in ten weeks off its December 2012 low.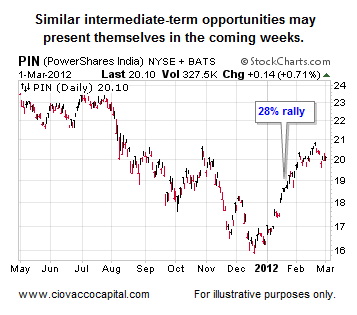 Two developments that may put the wind at the back of risk assets are Germany's recent move off their hard-line bailout stance and the Fed's emerging political and economic cover to launch another bullish round of quantitative easing or QE.
In terms of investment strategy, rather than go long the euro and short Treasuries (NYSEARCA:TBT), we prefer to monitor these markets to assist with other risk-on trades that may experience favorable entry points on further weakness in asset prices. If the right setup emerged for TBT, we may have to consider what could be a fantastic risk-reward entry point, but we are not there yet. Our watch list includes agricultural commodities (NYSEARCA:DBA), copper (NYSEARCA:JJC), oil (NYSEARCA:DBO), small caps (NYSEARCA:IWM), mining stocks (NYSEARCA:XME), and oil stocks (NYSEARCA:OIH). These markets may be in need of another pullback, which could result in a favorable risk-reward entry point.
As of this writing, the S&P 500 (NYSEARCA:SPY) remains eighty-eight points off the June low and has a clearly defined uptrend. As long as the S&P 500 can hold above 1,308, we will continue to view weakness as a possible buying opportunity. Any sustained break of 1,308 would increase the odds that the masses are on the right side of the euro and bond markets.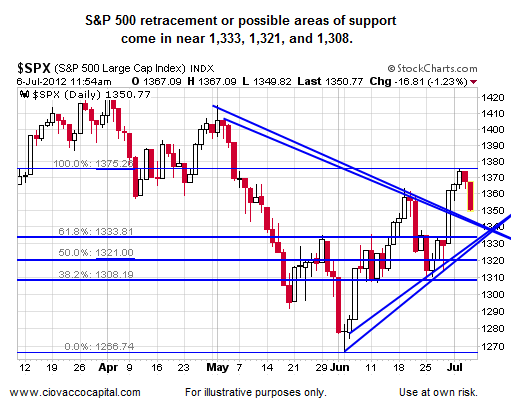 Written By Chris Ciovacco From Ciovacco Capital Management, LLC
Chris Ciovacco began his investment career with Morgan Stanley in Atlanta in 1994. With a focus on global macro investing, Chris uses both fundamental and technical analysis to assist in managing risk while looking for growth opportunities around the globe in all asset classes. If you are looking for an independent money manager or financial advisor, Ciovacco Capital is worth a look. Chris graduated from Georgia Tech with Highest Honors earning a degree in Industrial and Systems Engineering in 1990. His experience in the professional ranks began in 1985 as he began working as a co-op for IBM in Atlanta.
Ciovacco Capital Management, LLC (CCM) is an independent money management firm serving clients nationwide. By utilizing extensive research, disciplined risk management techniques, and a globally diversified approach, CCM prudently manages investments for individuals and businessowners. Our focus is on principal protection and purchasing  power preservation in an ever-changing global investment climate.