Precious metals analyst Mark O'Byrne examines gold's surprising recent big drop, and whether the pullback presents a buying opportunity for investors.
Gold Buying 'Opportunity' After Surprise 3.4% Drop
"Gold rebounded after the biggest drop in more than a year as investors reminded themselves of a world that's beset by risk, from the prospect of further currency weakness to the final stretch of the U.S. presidential election," according to Bloomberg today.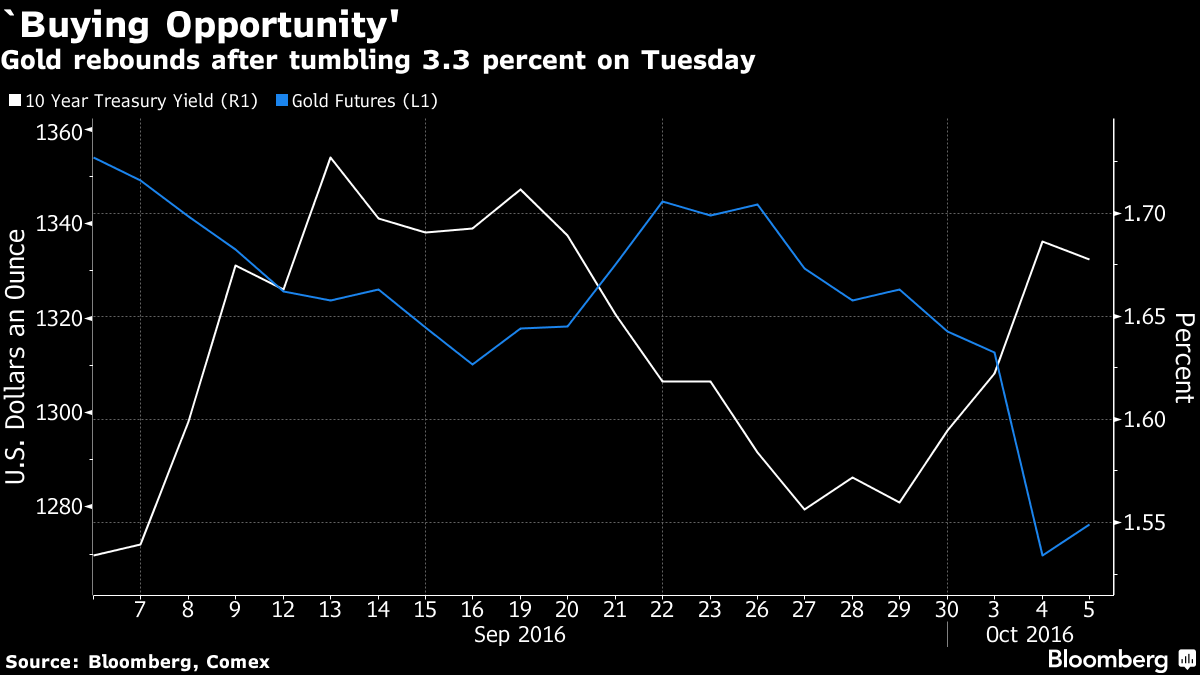 As Investors See World Beset by Risk, Gold Rebounds From Tumble (Bloomberg)
Gold fell by 3.4% to $1,268.70, while silver fell by even more and was down 5.1% to as low as $17.73/oz. Gold was also down by more than 3% versus the euro and sterling gold was also down 3% as the beleaguered pound had a temporary reprieve.
The sudden sell off was peculiar and it surprised analysts. It began at exactly 1200 British Standard Time (BST) just as U.S. markets opened and concerted and continuous 'paper or electronic' futures gold selling continued throughout U.S. trading hours, despite no data of importance, nor corresponding sharp moves in fx markets, energy and the oil market, nor indeed in stock markets. Indeed Asian and European indices were higher overnight. U.S. indices were higher at the start of the day too and then saw very gradual declines in the course of the day.
The sharp losses for gold and silver were attributed to a renewed "taper tantrum" and angst about central banks potentially rising interest rates and the indeed the ECB potentially tapering their massive QE programme. Indeed, these concerns are being blamed for European and emerging market stock indices falling today. However, the Bloomberg report which is being blamed for the falls, was not confirmed. It reported that the ECB will "probably" gradually wind down bond purchases before the possible conclusion of quantitative easing. The report was from anonymous "euro-zone central-bank officials".
As ever, it is best to ignore Fed, ECB and other central bank "jaw boning." It has been shown to be mere noise over the years.  Rather it is important to focus on the fundamentals of the global economy which is poor and deteriorating. With obvious ramifications for increasingly casino like global financial markets and risk assets such as stocks and bonds. Conversely, the fundamentals of the gold market are positive, arguably increasingly so.
The price falls came despite strong technicals and fundamentals which have led to the 20% plus gains seen in gold this year. There are indeed new positive factors in the gold market that have materialised in recent weeks and months as gold and silver consolidated in Q3. These include
i) Brexit and the risks this posed to the EU economy and the EU itself
ii) European banks remaining extremely fragile. Not just Italian and periphery nation European banks but also core Germany's bank Commerzbank and Deutsche Bank all of which heightens the risk of contagion in the EU. Credit Suisse in Switzerland is another systemic bank
iii) Finally, the political situation is the U.S. is as fractious and uncertain and there are two of the worst Presidential candidates in U.S. history whose economic policies and foreign policies are concerning
iv) Increasing and very robust investment demand globally – especially in western markets and especially from smart money high net worth and institutional buyers including the Rothchilds, Blackrock Inc and Munich Re.
"It's a buying opportunity," Bob Takai, chief executive officer and president of Sumitomo Corp. Global Research Co., said from Tokyo. Uncertainty about "the European currency, uncertainty about the sterling pound, all these things point to the direction that gold is going to be favored" he told Bloomberg.
Smart money traders, investors and value bullion buyers are buying gold and are using the price falls to accumulate on the dip. GoldCore has seen one of the busiest days trading on our online bullion platform since Brexit.
As we have covered in recent months, the smart and prudent retail, company, family office, HNW, pension, hedge fund and institutional money is aware of the real risks of a new global financial crisis and continues to diversify into gold.
The SPDR Gold Trust ETF (NYSE:GLD) rose slightly to $120.86 in premarket trading Thursday. Year-to-date, the largest ETF tied to the spot price of gold bullion has risen 19.04%, although the fund has now pulled back more than 8% from its yearly highs.
This article is brought to you courtesy of Goldcore.
Want More Great Investing Ideas?