Sales of the popular .999 one-ounce silver coins totaled 495,000 on Monday, taking the 2014 sales tally to a record 42,854,000.
That whopping figure handily beat the 2013 record of 42,675,000 silver coins.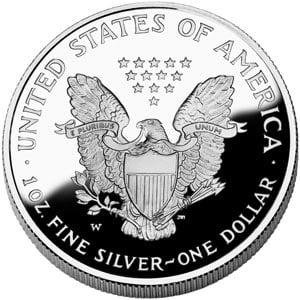 Low silver prices have driven investors to American Silver Eagle coins.
The white metal is down roughly 11% this year.
The U.S. Mint said it will continue to sell its remaining inventory of 2014-dated silver coins (under allocation) until inventory runs out.
Based on current demand, the Mint expects to have enough coins to offer to its authorized dealers through the week of Dec. 15.
"We are proud of our role as a leader in the global bullion coin market," U.S. Mint Deputy Director Dick Peterson said in a press release.
"Our American Eagle Gold and Silver Bullion Coins remain the coin of choice for investors around the world."
Silver continues to remain an investment of choice among savvy investors.
It's a way to store value and a crisis hedge, and it boasts hundreds of medical and technology uses.
Plus, it's affordable.
Indeed, silver prices are well off their all-time high of $49.45.
Silver fell 36% last year and is down another 11.3% so far in 2014.
While silver prices could be under pressure early next year amid a stronger dollar, many industry followers see a rally later on in 2015.
The U.S. Federal Reserve is likely to be more modest than investors expect with its rate hikes, which is bullish for precious metals.
Silver prices were last trading up $0.07, or 0.44%, to $17.18.
Written By Diane Alter From Money Morning
We're in the midst of the greatest investing boom in almost 60 years. And rest assured – this boom is not about to end anytime soon. You see, the flattening of the world continues to spawn new markets worth trillions of dollars; new customers that measure in the billions; an insatiable global demand for basic resources that's growing exponentially; and a technological revolution even in the most distant markets on the planet.And Money Morning is here to help investors profit handsomely on this seismic shift in the global economy. In fact, we believe this is where the only real fortunes will be made in the months and years to come.