But then reality hit, and as is often the case it wasn't pretty.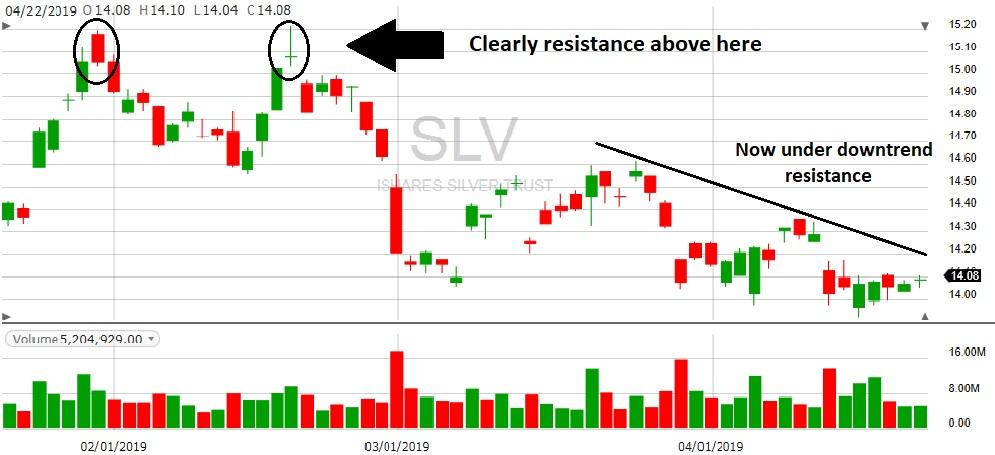 (credit: Fidelity.com)
SLV, the unleveraged US trading proxy for silver, fell 7.6% in two short weeks between Feb 20 and March 7, dashing the hopes of silver bulls everywhere.   The chart shows a clear failure to rise above previous resistance at 15.20, stopping at 15.21. You can't really call this a head-and-shoulders situation, it's a good old-fashioned resistance level.  And since the two peaks are so close together we don't have to worry about time decay or anything like that.
The real question now is how low can silver go?  For that, we need to look at a longer-time chart.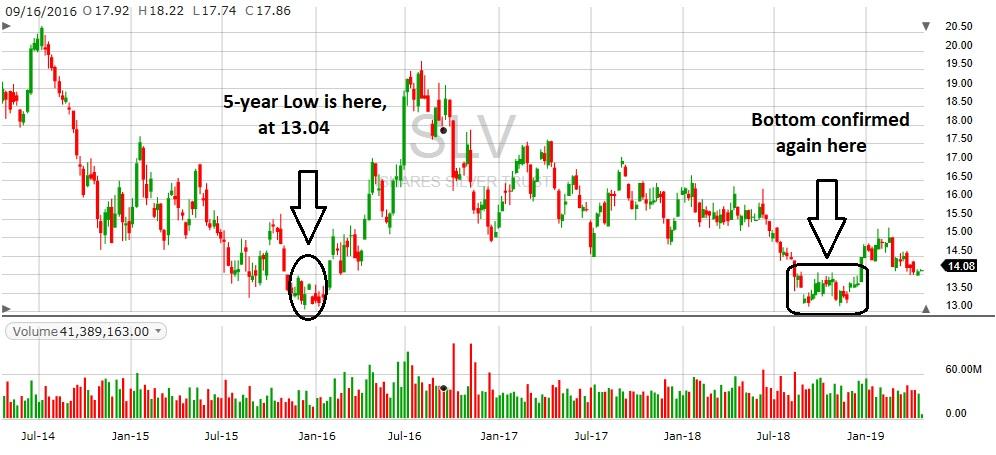 (credit: Fidelity.com)
That's not a very pretty picture.  The 5-year chart for SLV shows a low of 13.04 back in 2015, which was confirmed twice last year with dips down to 13.11. From where SLV is right now at 14 there isn't any sign of support until 13.50, then just a hint there.  Next stop down is the 13 level.
Of course, those are SLV prices.  Translating that to international silver prices, we find almost exactly a 1-point difference.  So international silver is just below 15 this morning and looking weak.  If it does continue down, next stop is at 14.50, then the 5-year bottom down at 14.00.
How likely is it that we will see silver drop more from here?  Your Gold Enthusiast thinks it's pretty likely, since traders were starting to load up on long silver a few months ago.  Most of those positions were probably unwound by now, but the steps down so far have been controlled, no signs of sudden capitulation like we usually see just before real bottoms.  So we're suspecting there is still one more leg down from here, if not two more all the way down to the 5-year lows.
Buckle on the parachutes, this could be a sudden drop.  Then get ready to buy!
Signed, The Gold Enthusiast
---
The iShares Silver Trust (SLV) was trading at $13.89 per share on Tuesday afternoon, down $0.19 (-1.35%). Year-to-date, SLV has declined -13.13%, versus a 10.18% rise in the benchmark S&P 500 index during the same period.
SLV currently has an ETF Daily News SMART Grade of C (Neutral), and is ranked #9 of 35 ETFs in the Precious Metals ETFs category.
---
This article is brought to you courtesy of StockNews.com.